Google is obviously expanding their Home Services Ads program. It has now moved east to Philadelphia and is also covering more verticals. In addition to the original plumbers and locksmiths it is expanding to the HVAC, electricians, garage door, roadside assistance, auto glass, painting, handyman, home cleaning and even appliance repair categories.
Dave Squires, a long time local SEO, shared his article detailing Google Home Services program that he wrote specifically for those in the HVAC industry and I thought it was very much worth sharing with my broader audience.
Dave is the President of Online-Access, a subscription based company that works with HVAC & Plumbing Contractors throughout North America showing them how to utilize the web as more than an electronic refrigerator magnet. Prior to that he helped run Vincent's Heating & Plumbing (VHP), his family HVAC business that has served the Port Huron area since 1959. He is still an owner but is not active in day to day affairs. He has over 38 years experience in the HVAC industry and over 17 years in the HVAC internet marketing space.
I rarely have guest writers but Dave knows of where he speaks and can help us all better understand some the nuances of Google's HSA program.
Obviously these are his opinions and it may or may not apply to you but I thought it was a great summary of where the program is at so I am republishing here.
Enjoy!
——————————————————————
Just when you thought you had Local Search figured out—Google brings out a new game board
By: Dave Squires, July 25, 2017
Brace yourself— Google is in the process of "changing the game board" again when it comes to generating leads through local search. For almost three years in the bay area of San Francisco, Google had been experimenting testing different approaches to directly compete against HomeAdvisor and Angie's List, and getting into the 'lead-selling' business. Unlike AdWords, where you are just buying ad space and the transaction is directly between you and the consumer, Google's new Home Services division wants to be the new 'broker' and 'quality police' of the entire transaction. In other words, like HomeAdvisor and Angie's List, they want to become the gatekeeper between you and new customers. The scary news is that they will probably be very successful in doing it—especially with how they have structured their new program.
Currently, Google is in the process of rolling out their new program in seven major cities around the country.The cities are Phoenix, Atlanta, Philadelphia, Seattle, San Diego, Baltimore, and Los Angeles.For your consideration, in this article I will go over how their new program works, what has changed that may have caused them to initiate the rollout now, and my analysis of the potential long – term repercussions.
Welcome to Google Home Services— and the' Google Guaranteed' program
After watching Google over the last few years try to make its Home Services platform work (which is a good amount of time for Google to test anything), I was surprised when I learned a little over a month ago that it was breaking out of California and expanding to new cities around the country. What I wanted to know was, what had they changed in the program that made them decide their program was a winner? It may be because they want to beat the new HomeAdvisor merger with Angie's List that will culminate in December, but I was curious as to what the final version looked like.
Finding the answer to that question has been surprisingly difficult, since Google has kept a tight lid on what they are doing. Obtaining preliminary information on their new program has taken a good amount of time and effort to say the least—but here's how the program is being rolled out today.
To start with, notice the image to the right that shows the results for the search "AC repair San Francisco". If you want to try this search on your computer, make sure you're logged out of Google or you won't see the same results (Google's version of "move along… these aren't the droids you're looking for). At the top of the page, under the heading "AC repair – HVAC pros serving San Francisco" you see three boxes, with each box listing a contractor, their Google review count, and then the fact that they are "Google guaranteed"—which I also highlighted in yellow. Below this is a phone number and the hours when they will be open if they are not currently open.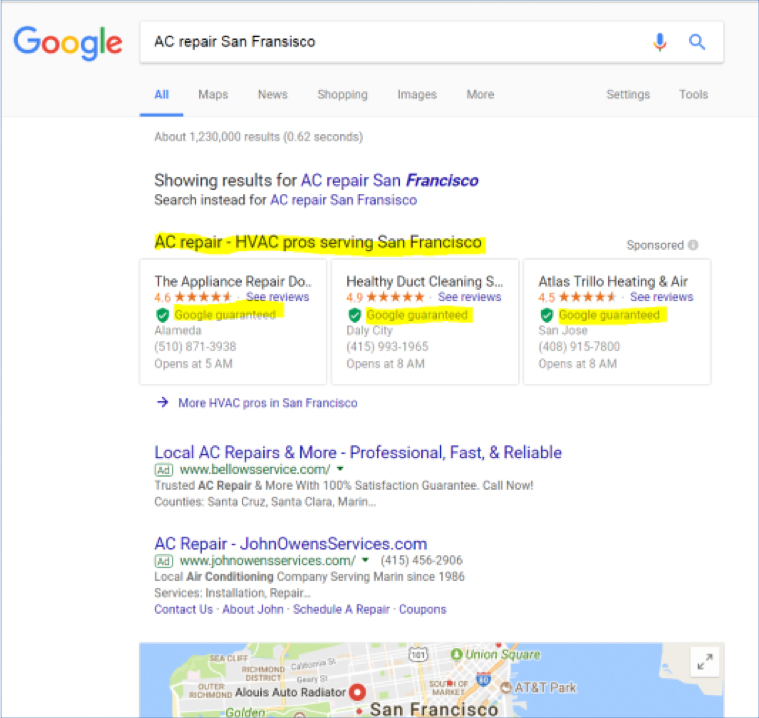 It's important to note that the phone number they show is not the contractor's number, but a recorded tracking number assigned to them by Google. Should the number be used by a consumer, the number displayed will change in the listing, and the number the consumer used to call you will remain active for that consumer for the next 15 days. The consumer's call will display to you as a Google-forwarded number—not the consumer's actual number. As long as you've spoken to the customer in the past 15 days, you can continue to stay in touch using the Google-forwarded number. The unspoken part here is, should you ask the customer for their direct number to try to circumvent Google recording your communication, you may find yourself out of their program… oh, and did I already mention that Google wants to be the gatekeeper of the transaction?
The good news (if you want to see it as that) is that Google only keeps total control of the customer's contact information for 15 days from the last contact. Continue reading How Google Home Services can Affect You – by Dave Squires →