Understanding Google My Business & Local Search
Local U Advanced – March 8th – King of Prussia, PA
Update: 3/3/14: Only 11 seats left.

There are only 9 days left until our next Local U Advanced, just outside of Philadelphia, at the DoubleTree by Hilton in King of Prussia, Pa.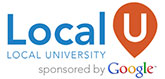 This year we have limited the total ticket sales (including sponsor seating) to just 65 folks. As of yesterday afternoon there were only 16 spots 11 seats left. Its only $899 and the rooms can be had for $129.
The event starts with a mixer (with great foods and drink) Friday the night before and continues all day Saturday. We cover your  day of breakfast, lunch and post even refreshments. It's a day and half full of all things local.
Google is sending Derek Wetzel so you can ask him your most daunting question (off the record of course) as well the full compliment of Local U folks including David Mihm, Mike Ramsey, Aaron Weiche, Will Scott, Mary Bowling, Ed Reese and myself. So whether you have an agency related, process related or technical question we will have you covered.
It's an incredible event with great conversation, great presentations and great learning. The keynote this year will be by Will Reynolds of Seer Interactive sharing some of the most effective strategies for driving local customers.
Sign up now. You'll be glad.