Understanding Google My Business & Local Search
Does the Separation of Google Maps and Google Local Portend a Divorce from infoUSA?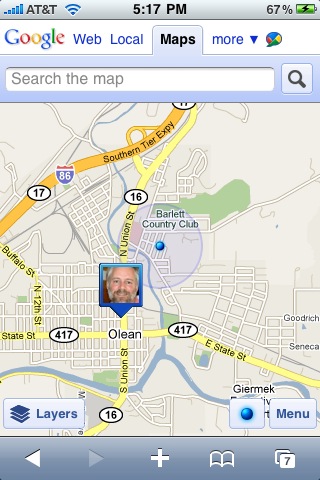 Ancient History
In 2004 Google Local was released as an independent entity on Google.com. In April of 2006, when Google merged Local into Maps, the competitive scene was much different than today. Google's main competitors on the mapping and directions side were Mapquest and Yahoo and on the IYP side Superpages, Yellowpages and Yahoo.
Google Maps leveraged their local audience to augment their direction customers and vice versa on their way to develop a very high rate of consolidated growth in both arenas that buried all comers. This compares to Yahoo's strategy of keeping the local, yp and mapping mostly separate. If nothing else the combination gave Google monthly bragging rights in the many public comparisons made by Hitwise & Compete.
Google effectively outmanuevered Yahoo, the IYPs, Citysearch & Mapquest in local and mapping and by combining Local and Maps into a single product (and adding ongoing innovation), was able effectively compete and ultimately surpass them all.  It is obvious where that has led. By February of 2009 they had gained a dominant and virtually unassailable market share in both arenas for general local search.
Recent History
It appears though that the marriage of Local and Maps is now entering a new era where Local will once again be split from Maps and take on more of a life of its own in the pantheon of Google products. Here are my reasons:
Increased Marketing
Starting early last summer, Google has dramatically increased marketing and outreach to SMBs. These efforts included the Favorite Places campaign, the Favorite Places Decal, Webinars and outreach like GetListed Local University (full disclosure: I help organize this event). This is in marked contrast to the previous three years, when there was little to none outreach or marketing. Obviously this effort is meant to increase claimed business listings.
Programming
Last September with the formal creation of Places Pages for each location, Google has had a series of ongoing actions separating the Maps and Local. A notable change in the move to Places was the display of Places Pages in plain HTML. With this change Google began moving away from an integrated AJAX interactive, Map centric interface for the Local data. The change was first seen in Places but migrated to the user edit screens as well.
This separation of Places data from the Map display created a common desktop and mobile presentation of data. This change allowed for an a lower server load, faster load times and the ability to create once and deliver on multiple platforms in whatever flavor of HTML is optimal. It is certainly important in the desktop environment to improve speed but of even more importance in the move to mobile and other future platforms.
Mobile
In February with the release of Buzz, Google upgraded their Mobile Google Maps product to version 4.0 In this environment the split between Local and Maps has become integrated into the UI as well. See the above screen capture of Google Maps for Mobile on the iPhone (the best mapping program for the iPhone that you didn't even know you had 🙂 ) and note the complete separation of Maps and Local in the UI.
Rebranding of Local
Over the past 9 months, Google has obviously embarked on an aggressive rebranding campaign to provide a new identity to Local; Google Places. The rebranding of the Local Business Center is the most recent example of this. At the time of the LBC rebranding, it seemed a somewhat inane exercise. But viewed within the context of the other changes, it has become clear that Google is attempting to create a separation is users minds betweens Maps and local data.
Places API
Last week at Google I/O, Google released new API's for Lattitude, Buzz and adding a new functionality to the Maps API called the Places Web Service which makes Places nearby a location and detailed Places Pages information available to 3rd parties using the Google Maps API.
Data Quality
Google's recently noted having 2 million business claimed records in the LBC. By any measure, it is a significant portion of the total number of businesses and arguably one of the largest, if the not the largest, sets of business owner created content in the Local ecosystem. Currently Google surfaces the data to be used in any given Places page by aggregating & prioritizing data from the primary data suppliers (InfoUSA, Axciom, D&B and probably Localeze), secondary sources like the Superpages, scraping data from 3rd level directories and local websites and the Google Place Management area (aka LBC).
Google has long held that the data that they acquire from even the best lists of the primary data suppliers contain too high of an error rate at any given time. Last week it was announced that Google was adding 300 temporary workers to improve the quality of Map and business listing data to help them improve their own data (for a great analysis of this see Mike Dobson's post.
Where is Local Going?
It would seem that the separation between Maps and Local will continue to grow. It appears to me that Google wants to reposition local for greater things, separate it from Maps in both a technical and marketing sense AND free up Maps so that it can once again be used as a platform in the competitive battles that they are now facing. The ability to distribute basic business data and/or review data without any restrictions via an api, combine that information with lifestreaming and location based information will be incredibly disruptive to the whole of the local ecosystem (iyp, lbs, etc).
Much like their going it alone in the maps base data arena, it would be totally consistent for them to do so in the business data area as well. With enough of their own data, the could easily replace any given component of the system and maintain the current overall quality of the index.
It appears to me that is that path that they are on. Sooner rather than later, Google will have enough data of their own, in good enough shape, which when combined with information from across the web will lessen Google's need to source data commercially . Hopefully Axciom, InfoUSA & Localeze are all evaluating their business plans. It seems that it is only a matter of time until Google takes this route and no longer buys any data for Local (um ..er Places).
Your thoughts?