Understanding Google My Business & Local Search
Google Rebrands LBC as Google Places and Adds Features
Correction 8:50 am: Google "inadvertently included the wrong screenshot on the press site – the image of the dashboard featuring the option to add a map and download KML. We're always testing features internally and may or may not release them; we didn't intend to indicate that we were launching these features".
Google announced earlier today, the rebranding of the Local Business Center as Google Places. As part of this rebranding Google has: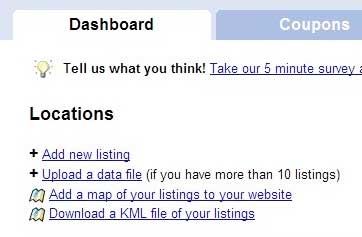 -Expanded availability and rebranded their fixed price enhanced listing feature as "Tags". It appears to have moved from a test to a permanent foray into a simple fixed priced ($25/mo) SMB product.
–Added the ability for business owners to more easily generate KML files and Location maps for their websites from within the Dashboard.
-Added the ability for business owners to generate a business specific QR code from within the Google Places (LBC) interface
-Announced the availability of Business Photo Shoots where "businesses in select cities can now request a free photo shoot of the interior of their business which we'll use to supplement existing photos of businesses on Place Pages."
Google also noted that over 2 million businesses in the US (4 million worldwide) have claimed their listings with Google and that 20% of searches on Google are related to location (somewhere close to 2 billion a month) . That amounts to roughly one in every 7 businesses that have claimed their business listing.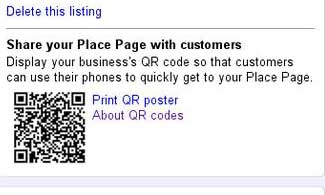 While the announcement may seem to some a simple rebranding or a minor upgrade, it may be more than it appears on the surface.
More business marketing and engagement: By creating a single brand that unifies Places Pages and the claiming process, Google is attempting to make the process more obvious to SMBs. They are also offering an overview webinar and outreach on the business photo shoot participation. Clearly over the past year, Google has been making an attempt to educate and engage SMBs in the claiming process and that seems to be accelerating.
Formalizing one leg of their monetization strategy: If you assume that only 15% of the businesses that have claimed their listing participate in the "Tags" enhanced listing product, it will generate over $180 millions annually in just the US. As part of this rollout Google also re-introduced their Service Area feature that was rolled out earlier in the month. This feature really has to be understood as part and parcel of their monetization strategy rather than part of their relevance or ranking algos.
Rolled out several Google Places (LBC) features: Google is formally embracing KML, QR codes and attempting to make creating a business map more obvious. These endorsements are significant in their own right. The broadspread adoption of QR codes could bridge the mobile and business marketing worlds accelerating uptake of both. Over the past few years, Google's development pattern has been to upgrade their Maps product and then rollout additional features in rapid succession. I believe that this could very well be the case here.