Understanding Google My Business & Local Search
Does Google Helpouts Indicate a New Direction For Local Transactions?
Will Google Helpouts replace the Business Listing Places Page G+Local Page G+ Page for Local as the transaction platform for local commerce?
What is Helpouts you ask? It is a (not so) secret Google project that turns Hangouts into a commerce platform/marketplace  "that enables individuals and small and large businesses to buy and sell services via live video".  According to TechCrunch who broke the story last week about the product:
With the capacity to connect merchants and consumers on both an immediate and scheduled basis, .. the platform will allow sellers to .. take advantage of reputation management, scheduling and payment features, while offering robust search and discovery tools for consumers.
Google has also apparently partnered with a number of brands during internal testing, including One Medical Group, Sears, Weight Watchers and Alliance Frances, for example. At launch, the platform will also reportedly include an array of individual merchants and instructors as well, from yoga gurus to fitness teachers — all of whom will be able to offer both free and paid services to consumers via Helpouts.
According to our sources, with Helpouts, Google is looking to remove some of the barriers that have traditionally stood in the way of the seamless delivery of live services. For example, using Helpouts, a Spanish tutor from Argentina could offer language training to students in Japan, while a Yoga instructor in New York would be able to provide classes to a stay-at-home mom in Wyoming and an appliance repair shop could walk a customer through fixing a broken fan in their laptop — with an Internet connection being the only requirement.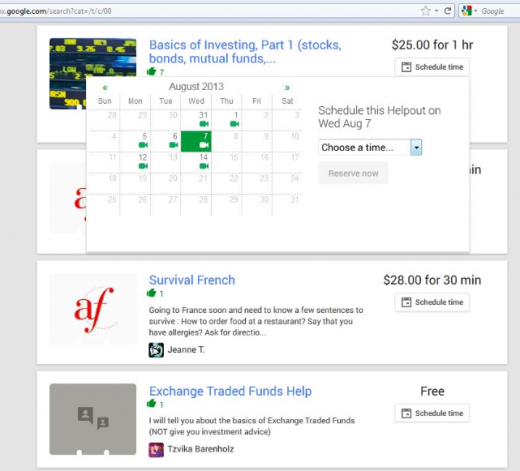 Does this product indicate a totally new direction for Google in local? By leveraging their Hangouts product and going after the trainer, consulting, support niche with a marketplace, they are able to refine and develop local tools like scheduling in a market that is underserved while using technology where they have a technical lead (Hangouts). As Ted Paff of Customer Lobby, pointed out, this learning on the part of Google could lead to their very disruptive engagement in a number service businesses that need low cost scheduling and easy to use CRM. This would all be happening on top of G+ and not the local business page.
Who knows if that is the direction it will take. What we do know is that Google is abandoning the idea of the local business landing page as the center of a local transactional environment.
Having followed Local for many years, I had always assumed that the local business page would be become the transaction platform for local business. That Google (and ultimately Bing, Yahoo, Yelp and the YPs) would figure out a way to insert themselves in an on-going way into the sales process of the many small businesses in the world.
Google has clearly given up on that idea with the near complete redirection of users away from the business's local page on Google + and moving what transactional successes they have had with Hotels (first seen in Places in 2010) and to a lesser extent restaurants (with the integration of Opentable)  to the front page.
Over the past few months Google has persistently and methodically not only debranded their local product, terminated Places search, end of lifed the +Local app for the iPhone,  removed access to the G+Page for local businesses in a number of ways but they have also integrated more and more of the local business data onto the front page of Google.
From the perspective of the small business, this change is likely a net positive. Few, if any people made it their Places page. Google, in pushing most of the local data fully out to the front page, increases the likelihood that it will be seen by more people and it is from that highly visible home page of Google that calls, visits and new customers will come.
Certainly a small business should continue to claim their business and possibly engage with Google's paid products via the new Places for Business Dashboard, now primarily a platform to sell Adwords Express and to facilitate a business's entry into the social world of G+.
But they will need to rethink exactly how they interact with their business page. The idea of actively promoting the G+Local page via external activities becomes even less viable than even a few weeks ago. Certainly this should put a nail in the idea of link building to it.  And the importance of the idea of "optimizing" the page should decline.
The real questions for SMBs regarding G+ is whether the social engagement of G+ will help long haul with marketing, customer relations and search standing. Clearly a product like Helpouts would be a no brainer for the trainer or consultant looking to expand their reach. The issue of whether a plumber, lawyer or spa is helped by actively publishing on G+ is a more difficult question.
For the industry at large, Google's move away from the business listing as the focus of their local efforts raises all sorts of interesting questions. Did the project not scale well? Were they unable to engage enough businesses to make that focus worthwhile? Did the product provide too little value for way too much work? Was the product not integrated enough into the daily life of the businesses?
Clearly this isn't the end of local as we know it. In many ways it is both a maturation and step into the future.