Understanding Google My Business & Local Search
The Rubicon has Been Crossed -Local Pages as Transaction Interface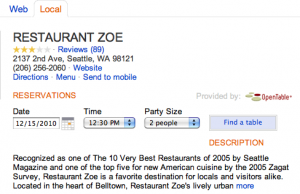 Yesterday was a seminal moment in Local. It largely went unnoticed but it reflects the rapid monetization of location pages by the major search engines.
Bing* announced a number of local, map and mobile upgrades that improve an already good, but under rated and under used product. Clearly, they are battling toe to toe feature wise with Google Places and will be giving as good as they get. It is nice to see their staying with Local and keeping in Google's rearview mirror with a general purpose Local platform.
But the part of the announcement that caught my attention was the following:
Mobile (iPhone):
Check-in: Share your current location with friends and family via Facebook, foursquare or Windows Live Activity Stream.
Plans: From the Bing homepage or a local search result, people can plan a night out and share the plan with friends via Facebook, who can comment or join the plan.
Opentable and Grubhub integration: With the integration of Opentable and Grubhub into Bing for Mobile, once you find your restaurant of choice, you can reserve a table on OpenTable or order takeout from Grubhub without leaving the Bing app.
Local enhancements:
OpenTable will be integrated into the local search vertical, allowing people to book reservations from the restaurant details page in Bing.
FanSnap will be integrated into the local search vertical, allowing people to purchase tickets to a concert or sporting event through the events details page in Bing.
These features when examined in conjunction with new features of the Google Places indicate the arrival of a new era for place pages.



You recall that recently Google Places' started including hotel booking options directly on the Places page.  These pages are now (finally?) becoming an entry point for financial and social transactions as opposed to just informational or contact based information.
In this role the search engines will be sitting between the customers and merchants or booking services. This change, while having been predictable, can affect many local business going forward in much the same way that the shift from cash to credit cards has affected them.
On the one hand, it will remove friction from the transaction while on the other, someone will be inserting themselves in the sale, with or without your explicit permission. It is a double edge sword and one that can be a net plus or not depending on how the search engines and social sites handle the process going forward. Historically, whenever a large corporation stuck out their hand in partnership to me, it inevitably ended up in my pocket and no longer felt much like a partnership.
Transparency is one way that could keep this from becoming totally unbalanced. But secrecy seems to be the order of the day as far as the Google Hotel booking system is concerned.
Does the new willingness of Google and Bing to sell on the brands of local merchants need to end up this way? No in fact, like the credit card it might actually increase bookings and sales for SMBs. It has the potential to remove a layer of blood suckers that currently exist in the affiliate world. But then again it seems that the power relationship is so uneven that as the demand of capital markets make their presence felt, more and more of the profit will go to the big boys…
*Full disclosure: Bing is a sponsor of many of our Get Listed University events.