Understanding Google My Business & Local Search
Should You Do Linkbuilding to Your G+ Page for Local?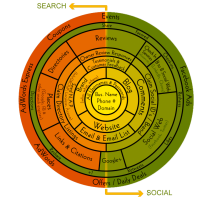 Miriam Ellis of Solas Web Design asked me the other day to revisit the question of whether one should "build links to their G+ Page for local".
Often this question is asked from the wrong frame of reference.
Unlike the Google Places page, a Google + Page is indexed and CAN have page rank. The page can appear in the Google index and Mark Trapenhagen has documented cases where a + Page has achieved a PR of 8. As such it is tempting to ask the question of whether  one should do link building to G+ Plus page.
"Should I link build to my Google + Page" carries with it an implicit premise in the question that a business will benefit from arbitrarily building links to a given page. In that is the simplistic assumption that ends up focusing efforts on the wrong target. An example of this thinking is the corollary question: "Will linking to the page help my local listing rank better"?
The simple answer to that question is no as the local algo looks at the strength of the "authority document" to assess ranking and that authority document is the business website. And if having a higher PR for G+ Page for local provided any value in that regard it would be a tangental benefit as a citation that passes some location strength back to your website.
A different way to ask the question that may frame it more effectively: Is there a benefit to my marketing or my readers to include a link to my Google + Page?
And the other question that puts it in the bigger context: Should I build the strength and presence of my Google + Page via Google's social network? Will marketing my company on G+ enhance my overall marketing effort?
Lets deal with them in order. Google has put in place what are and will become legitimate reasons that carry significant benefits to an individual and a business to create links to their respective G+ Pages from the business website.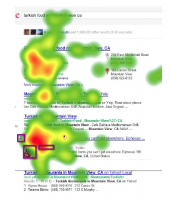 In an effort to associate an individual that Google has information about with their content around the web, they offer up the Authorship relationship (mutual linking from your individual Plus page to your website and back again). The benefits of having your author photo are well documented. The author image and social annotations clearly give your search results an advantage when Google shows them in the results. Google has published research that documents this affect.
While the publisher relationship (a reciprocal link between your website and the business G+ page using the rel=publisher tag) has not really expanded by Google beyond the publishing industry Google has been encouraging the activity  for local businesses. Recent tests to include publisher images in the search result indicate that its benefit will soon increase for every website in much the same way that the rel=Author relationship has.
So unlike having a website link to a Places page, there is a Google endorsed benefit to a business to have a link to their respective personal and business G+ Pages.
Another  reader focused benefit that was true with a Place page as well is that a business may also want to direct a client to their G+ Page for local to leave a review via a link on their website.
The question of whether you should go out and put time, money and effort into "link building" to your Google + Page, really seems like a question that distracts from the task at hand, marketing your business to an appropriate audience. It isn't all that hard to get your Plus page to show on the front page for a brand search for your company. That hardly seems to be an effort that creates significant benefit to your business unless you are using the tactic to push unsavory results from the front page of Google.
But other than the possible reputation management benefit, how exactly would explicit link building to the page benefit your company? It takes time and or money to build links and it would seem to me that for the most part promoting a content thin G+ Page offers little of comparative benefit to a business.
On the other hand we also know that Google will readily show interesting and fresh G+ Plus content in the search results. This diversified content can attract shares, pluses and links to your G+ Page that will populate the Google search results and will expand the visibility of your content and hopefully your business. This is much like blogging. If you have great content on your G+ page it will attract attention both within the context of the Google social environment AND gain visibility on the search results. This offsite content at G+ can and does pass visitors back to your main website. The link graph is very unique to a G+ page, obvious to Google and not one that is easily forged by "link building".
However rather than thinking about "linking to your G+ Page" you need to think about a social presence on G+ much like one would think about guest blogging. It has a place in the pantheon of marketing technologies. It can increase a business's visibility across platforms that you might not be able to get short haul from your own blog. It can help build the strength of your website and your own blog while instantly increasing your exposure in the main search results. Thus it has a real place in an overall marketing approach.
But even in that scenario you need to be cautious. Building the content on other's websites is a short haul tactic while you build out the strength of your own site. Long haul it doesn't replace building out the ever green content and the effectiveness of your own site. It is a great complimentary strategy but not a replacement strategy to building the equity of web content that you own.
I think that building a strong G+ presence makes sense. It attracts pluses, shares, links and all of that can pass strength and visitors back to your own site. But even with this tactic you need to take caution and not necessarily rush in. Has a business implemented the other, long haul sustainable marketing infrastructure that takes less effort and provides more returns than a social presence? Does the business website have really useful content? Is the businesses' NAP clean and accurate across the whole internet? Are they gathering and actively using email marketing? Are they actively collecting customer feedback and funneling customers into the review process? Are they generating fresh content on their own blog?
Those are all opportunities that should be mined before you think about "link building" to your G+ page. And when you do start promoting your G+ Page as a social presence doing it in a way that impacts your overall marketing and benefits your client is probably the best way to do so.