Understanding Google My Business & Local Search
Locksmiths flock to Google Maps forum demanding solution
There have been a number of recent posts in the Google Maps forums from apparently legitimate locksmiths that have raised the issue of illegal locksmith activities to new levels.
One locksmith has apparently gone to the extent of hiring a private investigator to track down the locksmith scam artists and posted personal detail about the man he believes is responsible for the activity:
Below you will see some of this person's information including websites, phone numbers, aliases, relatives, rip off reports, lawsuit information, and scam complaints. Hayim Bennamer's current partner is Nir Sibsony. You can view Hayim Bennamer on Facebook under the name "Mike Ben Namer" Date of Birth Aug-30-1974

Hayim Bennamer is currently the owner/president/registered agent of Reliable Locksmith in Miami. A locksmith company that has many rip off reports associated with them. Reliable Locksmith has been know for scams, complaints, unfair competition with other locksmiths as well as many other fraudulent activities. Below you will find Reliable Locksmith's incorporation information from the Florida Department of Corporations. If you put in google search reliable locksmith scams or reliable locksmith rip-off, or their associated phone numbers with scam and/or rip off in the end, you will immediately see some of the scams within the locksmith and moving company industries.

PLEASE BE AWARE THAT THIS INFORMATION WAS GATHERED BY THE HIRING OF A PRIVATE INVESTIGATION COMPANY TO INVESTIGATE AND RESEARCH THE PERSON OR PERSONS INVOLVED SCAMS, FRAUD AND DECEPTIVE TRADE PRACTICES. THESE PEOPLE ARE NOT ONLY SCAMMING THE CUSTOMERS BUT THEY ARE A THREAT TO OTHER LOCKSMITHS, MOVERS AND CARPET CLEANERS, ETC.
Another has challenged the scammers to meet at his place of business and accused the Yellowpages.com of being complicit with them. He noted that the scammers were Cowards and that:
I state here and now that I have evidence to support that yellowpages.com in particular is sleeping with you in this whole affair as many legitimate locksmiths are actually being scammed by yellowpages.com into thinking they need to heighten their internet presence amidst all the laughable supply of locksmith listings. I agree with the earlier post that any legitimate locksmith deciding where to invest advertising dollars online to keep a tight hold on their wallet until these fools either get mudered, thrown in jail or buried under 20 feet or earth. Prove to me you are not cowards by meeting me. My address: 124 Price Station Rd. Church Hill MD 21623 My phone number 410-556-6250. I am an American fighting man. I serve in the forces which protect my country and guard our American way of life. I am prepared to give my life in their defense.
The post has been modified somewhat since last night and now includes this snippet as well:
I hereby offer $5000 CASH reward to ANY individual who can escort me to the mastermind of this criminal enterprise.They must be able to prove it by showing me their domain manager account and third party telco listings. You are dealing with a monster, any veteran of MLA knows it and I am anxious to die in my effort to defeat you.
Google seems to have begun to step into the breach as it appears that, at least in NYC, much of the spam that I noted on February 25th for the phrase Emergency Locksmiths NY NY has been replaced with legitimate looking listings. It remains to be seen if spam has been removed countrywide.
Here are before and after screenshots of the Local 10 Pack for the phrase Emergency Locksmiths NY NY.

Before (2/25/09):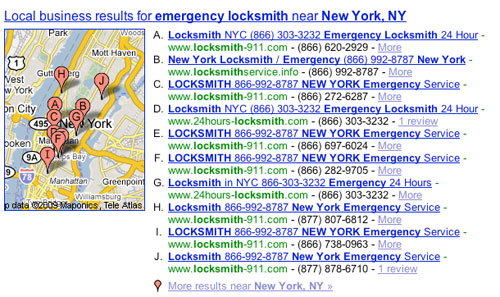 After (03/05/09)