Understanding Google My Business & Local Search
Google Maps LBC: Claimed Business Listings Still Being Hijacked?
In June of last year, reports started flowing into Google support groups about hijackings of claimed listings. In December, I communicated to Google a method by which "blackhat" locksmiths were hijacking business records previously claimed via the Local Business Center and which Google had posited as secure. Towards the end of January, Google notified me that this particular vector had been closed and that I was free to talk about it.
It appears though, that claimed records are still able to be hijacked. It was recently reported in the Google Maps forum that a claimed listing has once again been hijacked.
I followed up with the poster. The above record, legitimately claimed in the client's LBC, was compromised over this past weekend. In emails with other Locksmiths, it appears there are additional reports of hijackings of claimed listings as recently as the past 4 days.
It is unclear whether the same or different tactics are being used. It does seem quite certain that these supposedly secure records are being compromised.
In related news, "blackhat" locksmiths have been compromising unclaimed listings in the hotel and restaurant business. This is similar to the floral hijackings and brand name hijackings during this past year. The blackhats take control of popular restaurant and hotel listings to gain benefit of the many web citations and reviews.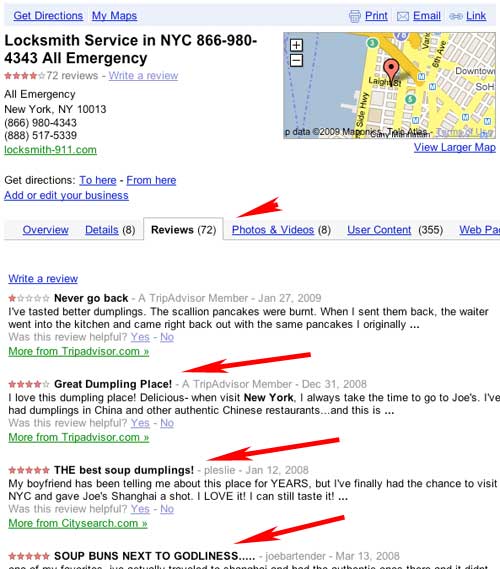 Due to the benefit incurred from high citation and review listings, many of these cross industry hijacks are dominating the principal locksmith searches in major markets: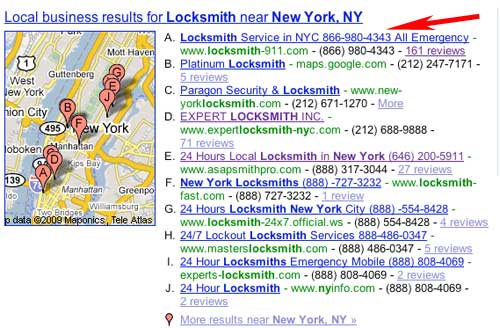 Some of these hijacked, unclaimed listings are also showing up in the high level Hotel searches like NY Hotels: