Understanding Google My Business & Local Search
Local Business Center upgrade now allows Plus Box control
In a quiet upgrade to the Local Business Center, Google has provided business owners with the option of using their entered address as the source for information for the Plus Box found in the main search results.
The problem with errors and frustation with the complexities in fixing them had been noted here and at SearchEngineLand. This upgrade should provide an answer to the many requests for assistance with an erroneouse Plus Box in the Google Maps for Business Group. At last count there were 75 outstanding requests received in the last 45 days.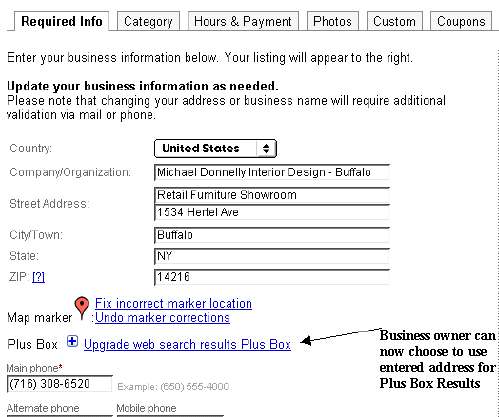 In a phone interview with Carter Maslan, Product Development Manager for Google Maps, he noted that he was aware of the bug for almost 15 months but that it hadn't significantly impacted user experience. He also noted that the upgrade would free Maps Guide Jen for the task of correcting erroneous phone numbers in the medical listing records and finding missing local business records lost in a late February mishap.
Matt Cutts noted in an email, shortly after the update went live, that he felt better now that Google had implemented a feature that he claimed was in the Local Business Center at the time of introduction of the Plus Box in December 2006.