Understanding Google My Business & Local Search
Google Plus Box – for real
This week I wrote an April 1st post about an upgrade to the Local Business Center that apparently a lot of people wanted to be real. I wanted it to finally work as well but unfortunately it doesn't.
Here are my previous posts about the Plus Box issues:
•How to change your Business Address in the Internet Age
•5 Simple Steps to fix the plus box (yea right)
•Google Plus Box – Where does the (wrong) data come from?
•Google and the PlusBox Blues
Here is Bill Slawski's excellent piece on this issue:
Incomplete and Wrong Data in Google Local Search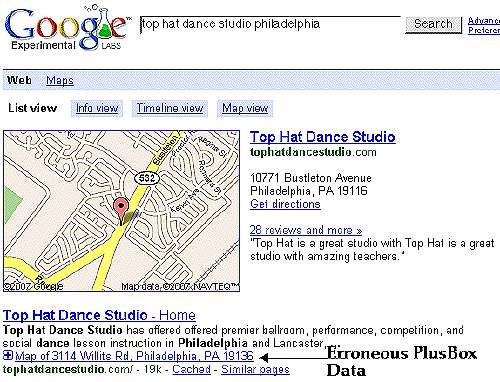 I've been following the Google Maps for Business group and there have been many reported Plus Box problems that would be corrected if Google could only get the LBC to correctly feed the data over to the Plus Box in the main search results page.
In December 2006 upon introduction of the Plus Box, Matt Cutts noted that the LBC would supply the correct info to the Plus Box.
Was he misinformed? Seems unlikely. So the real question at hand is why has the most reliable source for local data, the verified LBC listing, not yet been integrated into the Plus Box in the main search results in a reliable way?
Are there bigger architectural issues? Is it just something that will get fixed eventually?
This problem has existed for 16 months. The motivated business owners and those that notice the errors, contact the Google Maps for Busines Group and may get some help. Maps guide Jen heads off for a week, or two or more and the erroneous Plus Box may disappear. There are business owners that report up to 9 months to get the wrong data removed. It is not replaced with the correct LBC data, it just disappears.
There have been a number of anecdotal reports of it affecting business and of end users going to the wrong end of town or competitors benefitting. It certainly highlights both the difficulties with Maps AND the difficulty of dealing with Google.
It doesn't seem very productive for Google to have to make hand exceptions every time that their Plus Box algo goes awry. And it makes no sense to make the procedure for correcting it so difficult.