Understanding Google My Business & Local Search
Google Pack Adds Ability To Segment Results by Rating & Hours
Sergey Alakov, an active local SEO from Toronto, just noted on Twitter that Google has finally rolled out the ability to segment all local rpack esults on both the desktop and mobile by ratings and by hours. The feature had been first spotted in tests in early September and the tests have recurred since then. It has been available for restaurants (only) since April.
The buttons drop down at the top of the Local Pack and when selected provide a view of the results within the Local finder increasing the likelihood of those folks that meet the criteria more likelihood of being seen even if they are not a top of pack result.
There currently are typically ratings and hours to choose from. Although is some verticals, like cars, there is also distance.  There may be other filters and there may be times when it varies from desktop to mobile. If you spot different filters besides ratings, hours and distance  please let me know.
If there are no ratings or only one business with ratings, like this search, then only hours are offered and no option is given to chose by rating. Likewise a search for "best" something in a city seems to occasionally remove the ratings option as well although not always.
With the advent of an increased focus on attributes it is conceivable and likely that the options for filtering will increase as well as Google gets broader and deeper attribute details. I can imagine that one of the first might be accessibility.
Obviously this new feature encourages users to look at the higher rated businesses and stay at Google longer. Google once again comes down on the side of higher rated businesses getting a leg up in the search results. It also obviously favors Google reviews and Google site visits over third party reviews site.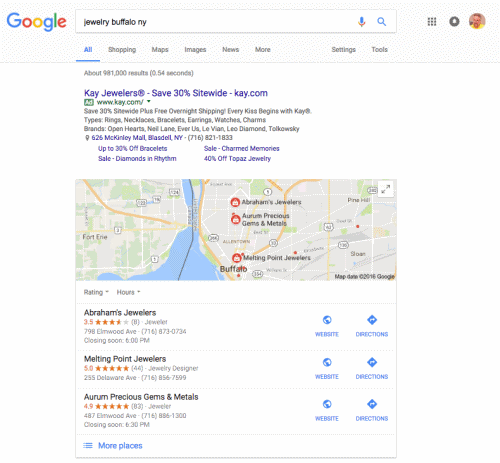 Here is a mobile screen shot: