Understanding Google My Business & Local Search
Google My Business Rolling Out Attributes to Single Listings


In May Google added the ability to add yes/no attributes via API in May and allowed API users to add non binary attributes like menu links in September. Joy Hawkins has reported that the GMB now has the ability to add attributes to single listings.
It is interesting that:
Attributes are not available to all business types (lawyers and doctors do yet show them, while restaurant and bricks and mortar do). It is unclear if or when they might be added.
So far it only allows for binary attributes; ie yes or no but doesn't allow for things like menu links which are allowed via the API. One presumes that is coming.
Each business type has a very limited preselected set of attributes from which to choose that sometimes is not really expansive enough. For example restaurants are not asked if they provide free wifi. The choices are even less than those presented to Local Guides who have been seeding this data for quite some time.
Here are screen shots of some of the attributes available:
Bricks and Mortar Retail Attributes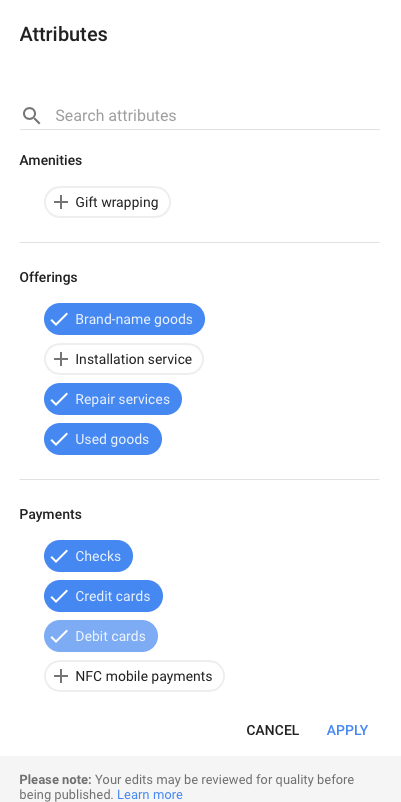 Restaurant Attributes