Understanding Google My Business & Local Search
Google My Business Expanding Wheelchair Accessibility Attributes
When Google rolled out the ability to add attributes to single locations earlier this month, they excluded professionals from adding attributes.

I noticed yesterday that now all professionals (doctors, lawyers etc) are encouraged to add the attributes relating to wheelchair accessibility. Unfortunately this is the only attribute that they are allowed to add at this point.
Most listings for which Google knows the information have been autoupdated to include the information. This entails an alert to the business to accept the update. 


Clearly Google is looking to enhance their knowledge of the real world's accessibility. It's a very positive step.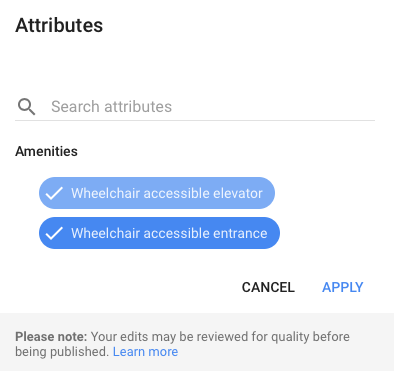 Google is using the attributes to return local results indicating both the value of attributes and the importance of this particular one. See this search for:  wheelchair accessible jeweler Williamsville.  Google seems determined to understand that attribute about every business.