Understanding Google My Business & Local Search
Categories in the new Places for Business Dashboard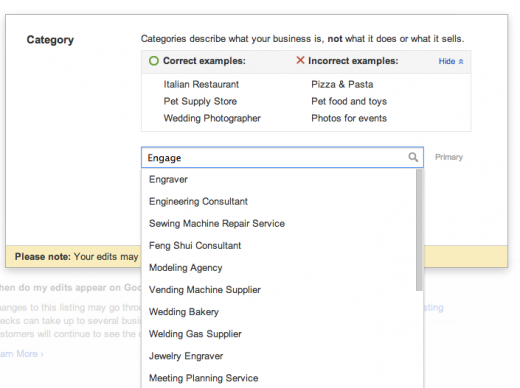 One of the big changes in the rollout of the new Places for Business Dashboard is a change with categories. Categories have long been a key factor in Google's determination of relevance of a listing. Google has added some additional categories, changed how categories are handled as well how many categories a business is allowed to have.
The bad news? The big change,  predicted for some time, is the elimination of the option of custom categories. Google has moved to a fixed list of choices.
The synonym feature is also missing. Thus a user that doesn't know exactly what they want in terms of categories will find it very hard to locate the correct categories.
The good news? Up to ten categories are allowed. Google has noted at the most recent LocalU seminar that categorical information about a business is retrieved from across the internet. Exactly what web based resources are likely to impact this are not totally clear.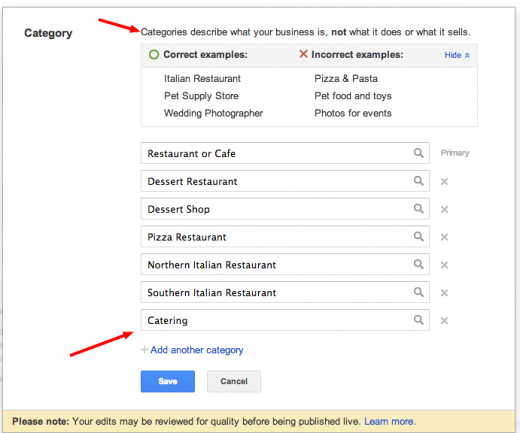 The category list is a dramatic improvement over what is/was available to businesses that verified via the G+ Page local interface and the list is very similar to those categories previously available to users of the current Dashboard.
There appear to be some additional categories in the new list, particularly in the area of restaurants. Upon an initial and superficial check I could not find additional categories in other areas besides restaurants although there may be a few. In the previous category list there were 76 types of restaurants. In the new category list there are 230 restaurant types. For example Google added the following restaurant types (amongst others):
Tongue Restaurant
Uzbeki Restaurant
Southwest France Restaurant
I am curious whether a "Tongue Restaurant" is what it sounds like? Why exactly do we need the category "Southwest France Restaurant"?
The new list contains a total 2295 category choices. I am including the complete Places for Business category list (US only) here in HTML format and hope to have the list integrated with my Google Places category tool in the near future.
Related posts:
Google rolling out new update to Google Places for Business
Visual Guide to the new Places for Business Dashboard 
Analysis: Google Places for Business or G+ Pages Lite?