Understanding Google My Business & Local Search
Google+ Local Categories Inadequate for the Job
In rolling out the update to the editing interface for business listings claimed into a G+ Page for local Google has fixed a longstanding problem with the G+ local product and answered (inadequately) a long standing question.
The problem they solved was adding the capability to add categories to listing that had been verified in the G+ Pages for local environment. One reason I have not recommended the switch away from the dashboard was that this functionality has been missing from the first several iterations of the G+ Pages for local. If you verified your business's G+ Page there was no option to add category information and you had to add or manage categories via either MapMaker or the old Dashboard. Both kludgey and complicated solutions beyond the reach of most SMBs. While I still am recommending caution in claiming the business in Google's social environment at least one of the barriers to making G+ Pages for local a functional environment has been removed.
The long simmering question that now also appears answered is whether Google will be supporting custom categories for local listings. The answer seems to be an emphatic NO (at least in looking at the interface). When you attempt to enter a custom category you are told that "We didn't understand your category. Please select from the suggestions that appear when typing".
Why is this a problem? Because Google's category system is woefully inadequate at its job of indicating what a business actually does. Categories are a critical piece of how Google determines the relevance (not rank) of a listing in local search and there are so few categories that the consumer search results will likely not show businesses that should be shown. For example some jewelers specialize in engagement rings, some in glassware, some in antique jewelry restoration, stone setting or hand carved designs. Google's categories capture none of these nuanced specialities. Making Google a less rich environment for both the searcher and the business owner.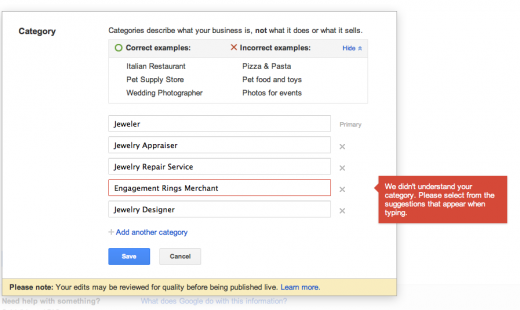 Categories have never been a strong point of Google's local products. In the early days there were only ~450 categories in total. In an upgrade in 2008 Google increased the number of categories to roughly 2200. Still woefully inadequate given the varied nature of business Google initially offered the option to have all of the categories as custom and then limited it to one standard and four custom categories.
Usually I don't make technical recommendations to Google as they have more brain power per square foot than I could ever muster. I am making an exception in this case because I see the direction that they seem to be choosing as inadequate in serving the needs of small businesses.
I recognize that there are taxonomic problems with custom categories and that they can be messy.  I recognize that their has been category abuse leading to spam. But the world is messy and full of variety that it should be Google's charge to capture that variety. And they should be able to deal with the spam as they have done over the past several years.
How might Google handle this better?
1-They should increase the number of categories. Many IYPs have at least 8000 categories. Some have as many as 12,000. The ~2200 in Google's category list come no where close to describing the many types of businesses that are out there.
2- I can understand the potential taxonomic issues dealing with custom categories. But who better than Google to solve this problem? If four custom categories are too many then Google should offer at least one or two. Then a small business with a really unique service might have some chance of being found in that specialized niche and equally important Google would have a dynamic resource for category data.
3- Google should allow for more than 5 categories for each listing. If you want to understand how a business sees itself then don't force it to fit itself into 5 slots. If there is an issue with abuse then require that the business prioritize the most important ones. The Bing Business Portal does an excellent job of that. This solution obviously only works if there are significantly more category choices than there are now.
It feels like Google is taking a step backwards in their move towards offering a fully functional local search product. It's a step that I think it unnecessary for them to take and one that will hurt both searchers and small businesses.