Understanding Google My Business & Local Search
Google rolling out update to Google Places for Business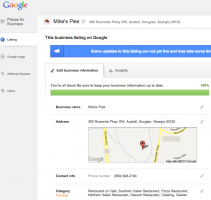 Starting today at ~1 pm PST, Google Local is rolling out an upgraded interface for Places for Business that will replace the current dashboard*. The rollout is staged and will be initially made available to a small number of US businesses and businesses newly claimed via the G+ Local page.
Over the near future the rollout will accelerate to include all U.S. dashboards. The international rollout will then continue across the 136 countries that currently have the Places dashboard. The exact timing of the rollout is not being made explicit.
The rollout is one more step towards the integration of local with Plus. While the feature set is neither expansive nor comprehensive, the product release does account for service area businesses (SAB) who can now get a Plus page for the first time. The product is currently targeted for single location businesses with bricks and mortar storefronts and SABs but still has limited provisions for multi location businesses and does not support Bulk uploads.
Once an account is transitioned the dashboard account will be automatically redirected to the new interface. If that account has a Plus account the option to edit the Google+ page will appear in the interface. But a G+ profile is not required to interact with the business profile. All that is needed is the existing Google ID/email. The business will be required to obtain a G+ personal profile if they want to add the additional features (social stream, videos) of a full G+ Local page.
When this rollout is complete there will be only two types of local pages: verified and unverified. Each business can decide whether they need the social and video features or not.
Google has noted that the purpose of this rollout is to address usability issues for the SMB in terms of UI, data push speeds, better notifications, reduced data integrity issues and improved integration with other Google products.
The product will retain the current Places for Business name although it really is more of a Google Plus lite than a Places Dashboard equivalent.
For more information see these related posts:
Visual Guide to the new Places for Business Dashboard
Categories in the new Places for Business Dashboard
Analysis: Google Places for Business or G+ Pages Lite?
* Unlike yesterday's post this is actually true. And I must admit I much prefer my vision.