Understanding Google My Business & Local Search
The Pendulum Swings On Google's Review Spam Filtering As Google Relaxes Filter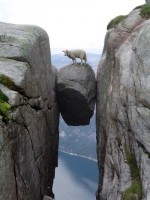 Google has announced in the forums that some of the reviews lost to their review filter will be returned. Apparently it will also be slightly easier for new reviews to be left as well.
Last year with the rollout of G+ Local, Google implemented a much more aggressive review filter. Many businesses, particularly in certain industries like legal and dental, saw massive review take downs. Many SMBS had difficulty  even getting any new reviews to show. Complaints amassed in the forums as businesses small and large were stung with massive review take downs and consumers could not understand what had happened to their reviews. The consolidated post that I created last July in the forums now has 743 posts alone and there were many, many additional posts as well. Clearly Google's aggressive filtering had hit a nerve. As result consumers AND businesses felt that they were now between a rock and a hard place.
While we don't know exactly the degree to which the filter has been loosened yet, along with a recovery of some old reviews, new ones that comply with the rules and don't trigger the algo should be somewhat easier to place. Any old reviews that are no longer filtered should be showing up over the next 24 hours. Obviously for old reviews to come back they need to meet the standards defined by the new algo mentioned below. If a businesses reviews still do not show there is no review reconsideration process.
During the many months of discontent Google refined their review policies but did not loosen the filter:
What led them to ultimately relax the filter is unclear. But the recent effort at education in the policy changes noted in this posting are commendable.
Here is the announcement in full:
We've made some recent improvements to our spam detection algorithms that have increased the number of reviews that appear on some local Google+ pages. We hope this improves your local experience!
Online reviews have been in the news a lot recently, and we at Google are committed to helping people to get ratings, reviews, and recommendations that are relevant, helpful, and trustworthy. To protect both business owners and customers from spam reviews, we have systems in place that may remove individual reviews.
No one likes spam, and we'd like to talk about what you can do to make sure all of the reviews on Google+ Local are useful, honest, and written by real people!
For reviewers:
Make sure you've taken a look at our review content guidelines.
Sometimes you may want to review multiple locations of the same business, such as your favorite fast food chain. Just remember to tailor each review to the specific location. Others will want to know what sets that location apart – be it the super friendly drive thru person, or maybe the unexpectedly awesome lake views.
Don't write reviews for your current employer. We don't allow reviews from current owners or employees.
Spam bots use URLs to redirect to other sites or potentially spread malware. We won't show reviews with links, so, don't put URLs in the text of your reviews
For business owners:
Be wary of an SEO or reputation management service that promises to generate reviews for your business. We've seen companies make up fake glowing testimonies — and we'll take them down.
We don't take down negative reviews for simply being negative for anyone, regardless of any other relationships with Google. Instead, we encourage you to utilize the owner response functionality to respond to the review and address the user's concerns.
If a third party claims that they know how to remove reviews from Google, don't believe them. Google does not work with any third party reputation management companies and we certainly don't remove reviews unless they violate our guidelines.
Don't set up a computer or tablet device in your place of business for customers to leave reviews on site. Consider printing out a QR code or sending a reminder e-mail so customers can review on their own time.
Remember, we don't allow you to give customers free gifts or discounts for leaving reviews.
For SEOs:
If a business accepts paper comment cards it might be tempting to collect them and "digitize" them by posting the reviews on Google+ Local. We ask that all reviews come from first hand experience and do not allow posting reviews on behalf of others.
For everyone:
If you see a review that violates our policy guidelines, you can report the review to us by clicking on the gray flag icon next to the review in question. You'll be taken to a form where you can tell us why you're flagging that review. Please note that we won't follow up with you individually, but we do review every piece of content that is flagged.