Understanding Google My Business & Local Search
Google Offers Up a Step by Step Guide to Deal with "We do currently do not support this location"
Google has finally  provided some public guidance, if not a a long awaited fix, to deal with the persistent Places error state "We currently do not support the location".
The forum comment provides a step by step procedure for assessing and coping with (but not solving) the issue. The listing nuking message, in the system for sometime, seems to have been occurring more frequently over the past 3 or 4 months. The work around offered is the one developed by the frequent contributor to the German Places Forums, Spinatmensch. If you want to see more discussion and experiences with the work around be sure to read the many contributor comments made in response to the suggested work around.
Here is the helpful step by step process that Vanessa, the Google Places forum community manager offered up in response to yet another question about the issue: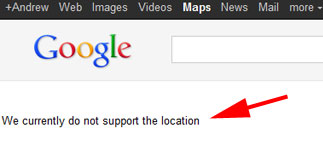 I've had my places business page for over a year, and now it says the 'location not supported' when I click view page?
Topic of your question: "Location not supported" No address change since original place listing – what is the problem?
I've had my places business page for over a year, and now it says the 'location not supported' when I click view page? I haven't made any adjustements to the page except to add photos periodically. I have even advertised with google the past couple of months, but didn't this month. Does that have something to do with places ad not showing up?
If this continues, I will never advertise on google again for sure.
——————————————————–
vanessagene
Google Employee
12/14/11
If you're seeing "We do not supper this location" on your listing:
1) Search for it on maps.google.com — "business name and city". Sometimes the links from your Places dashboard aren't synced properly, and you should always search on Maps first to make sure it is indeed removed — often it's still live and there, you just need to look it up via maps.google.com.
2) If you don't see it on Maps, go in to the Places dashboard and poke the listing by clicking submit (wait a little bit, in can take some minutes to appear). Then again, go to maps.google.com to see if you see it appear live.
3) If you're still seeing the message on your listing, use the troubleshooter option, and our team will get back to you via e-mail:
http://support.google.com/places/bin/static.py?hl=en&ts=1386120&page=ts.cs
I have verified > Yes > "My listing no longer appears on Google Maps."
Believe me, we know this can be frustrating for you guys, and we're working to clean it up so you see less of this happening.
– Vanessa