Understanding Google My Business & Local Search
Google Places Work Around: We currently do not support the location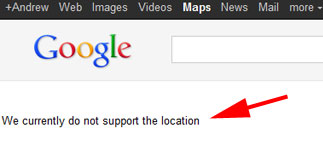 When working in Places the message that we all dread to hear: We do currently do not support the location is a Google message that instills the fear of god in the most expert of us. In normal situations it will show when a newly created listing has not yet been integrated in the Maps index. Give it 48 hours and the message goes away.
However there has been a more sinister occurrence where it will show up all of the sudden on a long claimed and stable record and it's the bane of who ever runs into it . Until now it was not known what caused it or how to fix it. It is a message that shows up all too often in the forums raising its head there 3 or 4 times a week.
Fortunately for all concerned, a frequent contributor to the German Places Forums, Spinatmensch has discoved a work around for this most devastating of Google Places Bugs. Here are the instructions as detailed by EHG, another frequent contributor:
1. go into the GooglePlace account containing the "unsuported" location.
2. click the name of the entry to get the URL of the analytics site of the entry opened in a new tab of the browser.
Its URL should look like:
3. Now enter any  content into the field below the line "Share an update on your place page" and hit the button Share" to publish the new content.
I have tested this recently with Andrew Baker whose Places Page was experiencing the problem. This solution may actually recover some of the listings that were edited during the Pending problem as well.
A hat tip and a huge thanks to EHG and Spinatmensch for solving this problem!