Understanding Google My Business & Local Search
Google Places: Growing Reports of "We currently do not support the location"
Update: One of the posters in the forum whose listing has gone into limbo noted that he just received the following email from Google:
Thank you for your patience during this entire process while working with me. We have been working on a technical issue that has affected many users. Unfortunately, it appears your listing has also been affected. This probably happened because your listing has gone through recent information edits and modifications. Have no fear however! We are aware of the incorrect information you emailed about and are taking steps to fix it. You should see the information appearing correctly within four weeks' time. If, in four weeks, you are still experiencing this problem, please respond to this email. Thank you for your patience.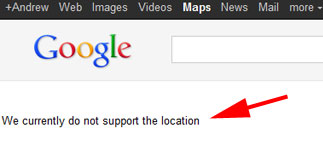 Update 10:30 pm:
There have been reports in the German forums of a user making as many as five changes to the record before the listing came back from the dead. I think it as likely the quantity and repetiviness is as important as the specific action or the order but who knows. CAVEAT EMPTOR. Why this has happened is unclear as is the impact of multiple changes on the state of your listing.
In the German forums the user added an update two times, he then shifted the location marker once, he made a slight change to the categories and finally a major change to the categories. He save after each interaction and on the 5th one, the record reappeared.
As I noted, I have no idea why this happens or the impact it might or might not have. If you are the poking testing type and do make numerous changes please report back.
Update 11/2:
At least one user that attempted the more aggressive approach has reported lost reviews.
There are a growing number of instances in the forums of businesses reporting that their listing is not showing in Places and their listing, when accessed via the dashboard, displays the foreboding message "We currently do not support the location". There have been over 30 reports of the problem in the last 3 days.
For some the work around for "We currently do not support the location" reported here last month has done the trick but for others their listing remains in Google limbo.
If your listing is showing the message try the work around. If you are unlucky and it doesn't work, report the problem in this consolidated thread at the Forums that Google is tracking.