Understanding Google My Business & Local Search
Google Places Continues Places & Hotel Booking Upgrades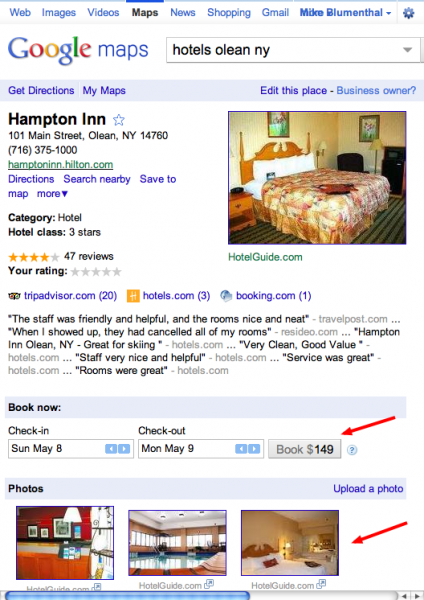 Google continues to make upgrades to Places and Maps having recently announced a wider rollout of Google Business Photos. As noted last week there have been a number of changes/additions to Places pages themselves.
Adam Dorfman of SimPartners pointed out this additional visual upgrade to the Hotel booking feature. The new emphasis makes the feature more obvious by adding its own subheading, emphasizing the dates and bolding the price on a contrasting color.
Another change that occurred last week was that the photos, which had been much lower on the page, also are now appearing above the fold.
Google has often indicated that they will continue to change and move the content of the Places Page based on their perception of end user utility. If that is the decision criteria of how they reached the current layout the implications are not quite believable.
By that logic the review totals being duplicated above the fold implies that Google's own reviews and fully formed review content are somehow less valuable than 3 party review totals. Google would also have to argue that users really want to do little more in Places than book a hotel.
It would seem that politics, business relations and income considerations more likely explanations for the new layout.