Understanding Google My Business & Local Search
Google Places Adds Nearby Places You Might (not) Like
Will Scott of Search Influence has pointed out a new "feature" on a business's Places Page that is sure to infuriate more than one SMB. Right below the review section of the Places Page, Google has added a new section titled (with no little irony): Nearby Places You Might Like. This screen shot of the Places Page for a jeweler in Buffalo, Barbar Oliver & Co. Jewelry: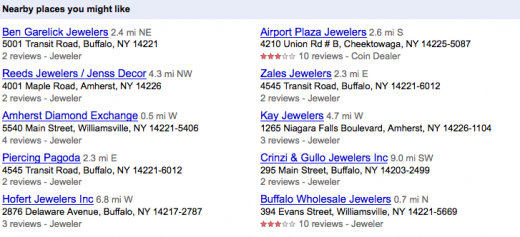 Since it was introduced, Google has promoted their Places Page as an alternative landing page for a business and it was highlighted as such during their Local Listing Ad test last year. There isn't an SMB in the universe that has invested in maintaining and highlighting their Places Page that wants nearby competitors listed on that very same page.
It is an interesting choice of upgrades to the Places page for Google to make. Clearly, from their point of view, they need to make the Places Page a beginning point to a users experience with Google not an ending point. As they have directeded more traffic internally to the Places Page instead of the list view in Maps, I am sure that they have found that users have no obvious place to go from there. The user interface to view more pages within Maps is not very noticable and most of the links on the page lead off site. Obviously, not a great strategy if selling more ads is the goal.
Google could have chosen, in the past, to highlight a business's Places Page in the main index but choose not to. Now, when a user does arrive at the page for a business there is a choice to visit competitors Place's Pages as well as other nearby businesses. In a strange interface convention, the link to a Nearby Places You Might (not) Like is selected it opens a new window in a very un-google like fashion.
Clearly, moving forward, Google is hoping to make the Places Page and elements on it more visible. They are also hoping to monetize this by enticing owners of the pages to either advertise or enhance their local listing. It seems to be an incredible bone head move if that is their plan to wave a red flag in these very same owners faces prior to that move.
This move will be perceived as "evil" regardless of their motivations and goals. One can only hope that it is a test of very limited duration and not a new, permanent part of the Places Page