Understanding Google My Business & Local Search
Google Maps Adds Events to Places Pages
Update: Here is Google's LatLong Post on the new feature: Make Google Place Pages your business' megaphone
A nod to the Tenacious Frog for first spotting this one….Google Maps is now integrating events and the opportunity to display time sensitive information into your Places Page. Businesses can now add events, specials & time sensitive activities to their listing

The information immediately updates the business's Places Page in real time: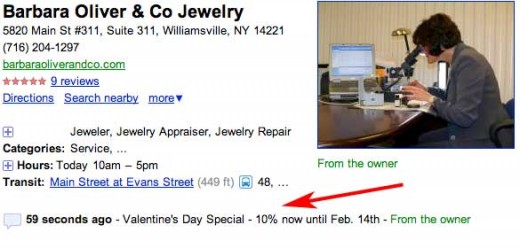 Claerly Google has long had an interest in gathering additional and more granular information at a local level. The ability to create local event information is a feature that Google has included in their Map Maker for some time. The implications of this move are not yet clear.
For this to have an impact and generate significant interest on the part of SMBs, the information has to be visible and actionable. If it is buried like the Coupons, after an initial trial, most businesses will move to other means of announcing events. Currently the information is only visible from within a business's Places Page. It is not visible from the 7-Pack, the business Onebox, the List view with Maps nor from the top level view within mobile. Since Places Pages are not currently in the index and exist at least two clicks away from the main search results, the information as it is currently displayed will not get much exposure.
Unless Google pushes this data to a more visible level, it will languish in the nether lands of Maps, away from public visibility and will quickly fall from favor. An API would be the ideal compliment to this information as would a mobile app that allows a user to see the what, when and where of these events.
Google has a strong incentive and the power to incent businesses at the local level to share this information. If it is shared and is actively displayed it could alter the playing field for event promotion but if it ends up like coupons it will have little if any affect.