Understanding Google My Business & Local Search
Related Places Moving to Main Search Results?

It appears that on certain search results that Related Places, that have been typically showing at the bottom of a business's Places page, are being moved to the main search results and showing up under "similar pages" results at the bottom of the page.
The new results are not widely returned. I was only able to see local "Pages similar to" on a limited number of locally branded searches for bed and breakfasts in St Augustine & San Francisco but not on similar searches in other markets. Whether this is a test or a permanent feature is unclear.
The searches for Chateau Tivoli Bed & Breakfast San Francisco and Bayfront Marin House St. Augustine both show the Related Places removed from the respective Places page (here & here) and have them turning up at the bottom of the main results. Searching for other specific B&Bs in SF and St Augustine returned similarly missing related places on their Place's Page. But similar searches in many other markets do not.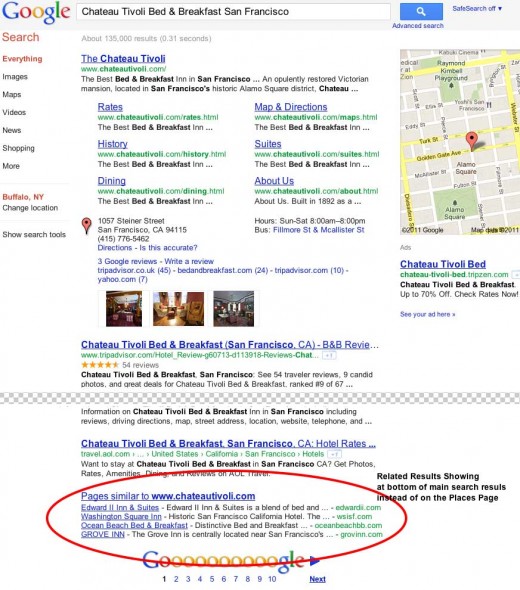 Discussion: Related Pages were added to business's Place Page in early February 2010 and were originally referred to as Places Nearby You Might Like. Despite their name, they were not liked by business owners as they showed nearby competitors on what many SMBs considered their page. It was the first indication by Google that a Place Page was their search result NOT a small business owned business listing.
Google started showing related results at the bottom of the search results in the "Pages Similar To" format in April, 2010. It has typically shown related web pages NOT local web page results.
It is hard to tell whether this is new emerging change or a test. Given the low traffic that Place Pages get, moving Related Places to the main search is likely is unlikely to have much  negative impact Google's lateral traffic.
With the attitude of most SMBs towards seeing competitors on "their" page, it makes sense for Google to move "related places" to the main search results. SMB suspicions are easily aroused and they are a prickly lot. When asked by Google to spend ad dollars, it would be much easier for the SMB to say yes without this particular thorn in their side. From the SMB point of view, this is a change that should happen to all Place Pages now!