Understanding Google My Business & Local Search
Why Brands Should Be Worried About the Local Scroll Pack
On mobile, local brand searches on Google have long been mundane affairs largely focused on the brand that the consumer searched for. They delivered up nearby locations, a logo, an about tab and typically highlighted pages from the brand site.
It was a straight up recovery search by a customer that your brand owned. 
Even with the recent tests that displayed tabs for Brand Packs (ht/ Sergey Alakov), there are few distractions from the searchers task at hand, finding the location of the brand they were looking for. 
But the new Local Branded Scroll Pack changes all of that.
A simple recovery search becomes a discovery search allowing consumers to explore outside of their normal habits.  Google is actively highlighting related searches that might entice the brand searcher otherwise entrenched in their comfort zone.  Similar businesses that might serve what your favorite brand does  but cheaper, better or with fuller service are now readily highlighted front and center in the Branded Scroll Pack result.
Starbucks is a case in point.
With the new calls to action and bright red pins in the most recent versions of the Scroll Pack, searchers (or at least I was)  are actively guided to the red pins offered below the brand locations.
All of the sudden, Starbucks  isn't necessarily the best coffee, isn't the only one offering ready wifi and temp office space and is but one amongst many coffee shops.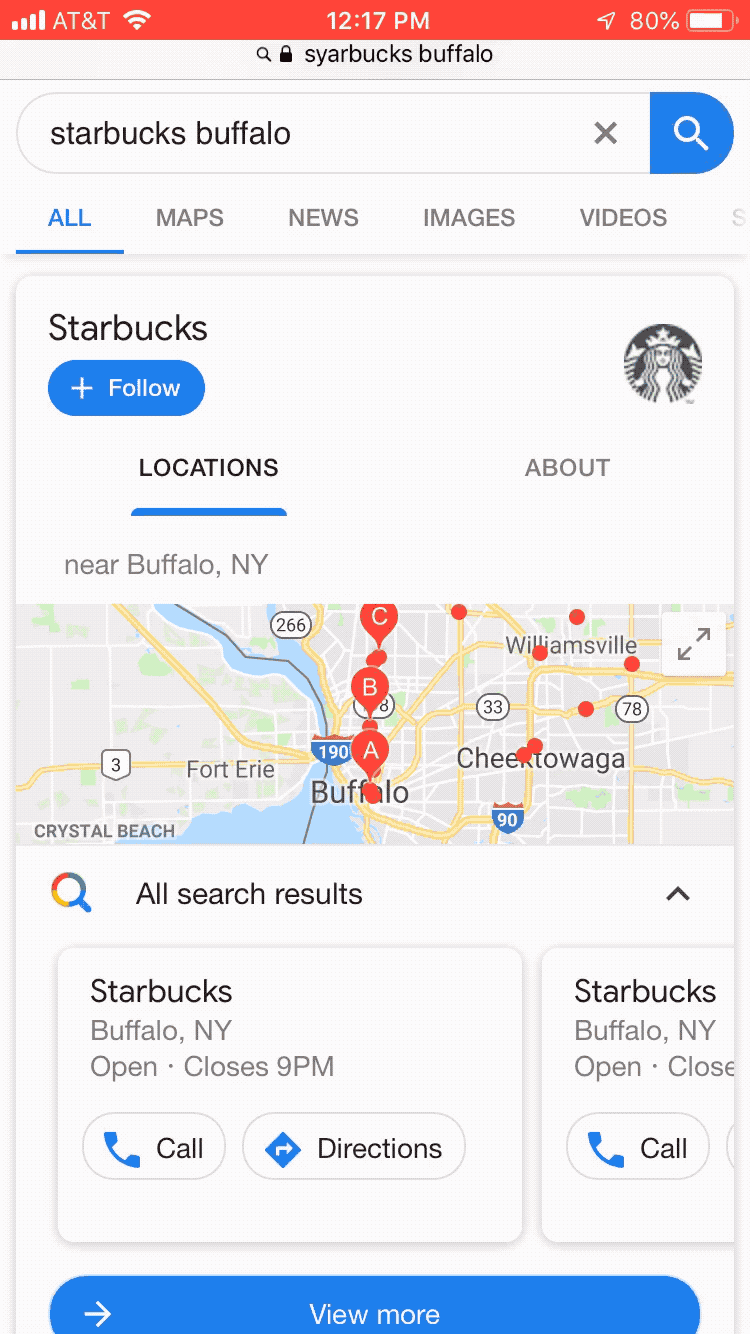 As Dan Leibson of Local Seo Guide noted in a conversation discussing these results: "I'm curious how this will net out. I would imagine for retail brands that focus on diverse products e.g. big box, they could theoretically net out ahead".
I think that is largely true IF a brand is surfaced for the categories/attributes of the suggested search that are offered.
But for every brand that is rewarded there are going to be ones that won't be. And while it might in the end be a zero sum game from Google's perspective, it will not be seen as such from the point of view of the Starbucks of the world.
All of a sudden they have one more search result that they have to worry about and try to compete for just to keep their existing customers that are searching for them in the fold.
To see the current styles of brand packs ….
Boy, talk about testing, I have seen all three of these different results over the past 24 hours.