Understanding Google My Business & Local Search
Reserve with Google Makes its Way into the 3- Pack SERP on Google
Transactions in Local Search via Google's Reserve with Google tool have historically been limited to Knowledge Panel results.
It appears that this transactional capabilities being expanded or will be expanded to include embedding calls to action directly into the Local 3-Pack search results. And given Google's obvious expansion of the Reserve with Google we can expect to see these sorts of results in many new verticals going forward.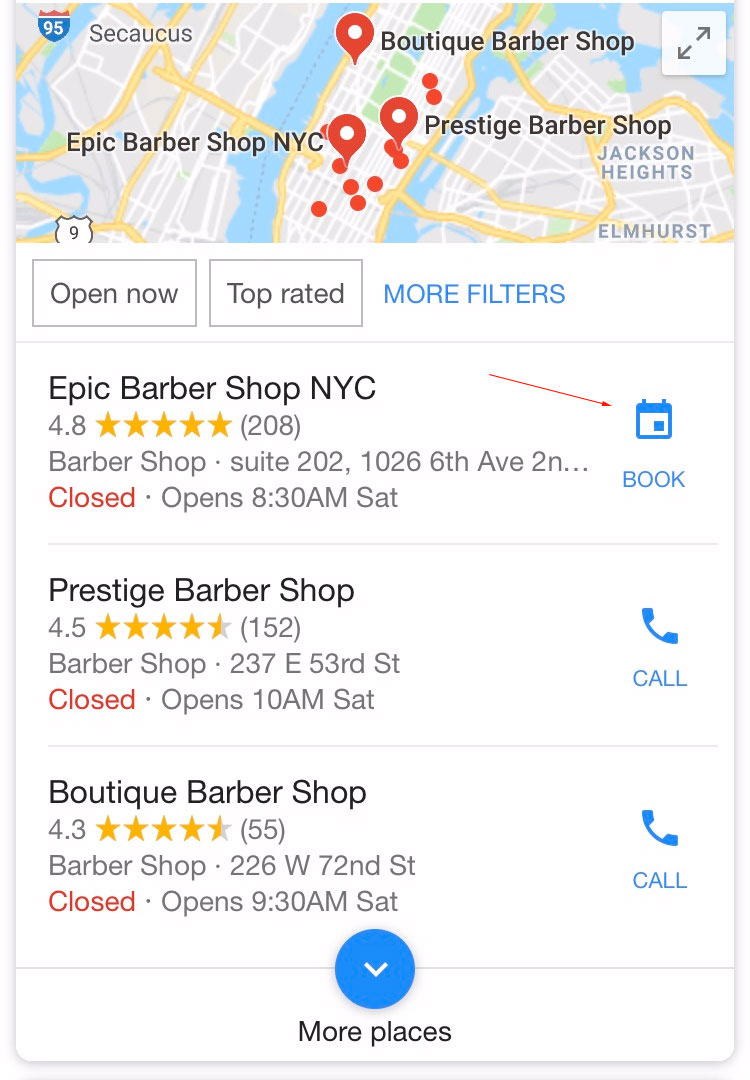 Reserve with Google, Google's back end tool that connects local listings to assorted booking tools but keeps the whole transaction process with-in the Google mothership, was first released last fall.
At that time, it was initially focused on Spas and Gyms that worked with a limited set of 12 scheduling apps.  In April of this year, restaurant booking using the Reserve app was added via OpenTable.
Subsequently Google expanded the number of scheduling app partners to now having 36 partners with an additional 33 partners "coming soon".
Google has moved into new verticals with their reserve tool beyond those mentioned above. We know that Google is allowing for restaurant order take out via the Reserve with Google tool (or something very similar) using their "on-demand platform".
We have also seen Google's on demand tool showing up for Hotel bookings.
[Update] Tom Waddington pointed out that he has just stated seeing Reserve with Google showing up in the Garage Door category as well. Home services is an obvious area but one that I had not yet seen.
[Update] Sergey Alakov noted in August that Reserve With Google Expand[ed] to Attraction and Museum Ticket Purchase
The coming soon list includes Yelp, TA, Eventbrite, Thryve and CouresHorse to name but a few partners. So we can anticipate starting to see many, many more transaction types in the Knowledge Panel in areas perhaps as diverse as education, professional services, home stays and who knows what else
And if the above search is any indication, we will start seeing these transaction capabilities directly in the main local search results with ever increasing frequency as Google's local search becomes ever more transactional in nature.
Book with Google partners: