Understanding Google My Business & Local Search
Google My Business Guidelines are Like Traffic Signals to New Yorkers – A (Very) Rough Suggestion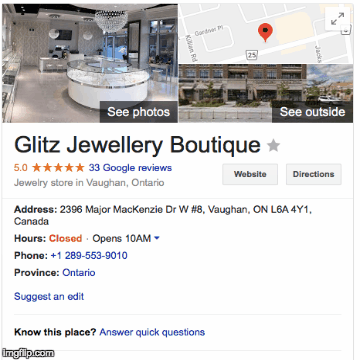 To paraphrase David Letterman, Google My Business Guidelines are like traffic signals to New Yorkers… just a rough suggestion.
Google clearly states in the guidelines that "your name should reflect your business' real-world name, as used consistently on your storefront, website, stationery, and as known to customers. Accurately representing your business name helps customers find your business online….Including unnecessary information in your business name is not permitted, and could result in your listing being suspended."
In this case the definition of "should" and "could" are sort of like Clinton and his verbal gymnastics around what the meaning of the word "is" is. Like "is" with Clinton, the words "should" and "could" do in fact have meaning in both objective reality and in the Google My Business Guidelines. The only problem is that they are different in both places. And it isn't clear that Google ever plans to inform us of their intended meaning.
How do I know and many small businesses know this? Experience.
The telling example that comes to mind is a jeweler near Toronto. About once per quarter I blog about this and about once every month or two or three I edit their listing to the actual name, it gets approved and then shortly there after it returns to its adopted name. It's quite an adoption too. It includes brothers, sisters and the kitchen sink as "Glitz Jewellery Boutique" becomes "Glitz Jewellery Boutique – Engagement rings, diamond jewellery and gifts in Vaughan" shortly after my many interventions.
For the record my edits have been approved by Google SIX times. The owners of the listing are probably swearing at Google for the ever changing suggestion in their GMB. Well at least they are visiting it often.
My only wish in this whole sisyphean tale is that my Local Guide edits counted as frequent flier miles instead of just the lame points I do accrue. I could at least be close to a vacation in some exotic place by now.