Understanding Google My Business & Local Search
G+ – Google Local Divorce Mop Up – Who Got the Kids? Not Sure But the Orphans Have Been Nuked
The estrangement and ugly divorce of Goggle Local from G+ is finally, finally ending with the mop up of the last remaining remnants of the marriage; those many, many G+ Local Pages that got created in the wild passion of their joining.
What always seemed like an unnatural union started going south in 2015 or so. Since then the assets have been split, what functionality Google Local needed from Plus, they created,for the most part1, on their own (improved Insights, Posts2, review links3, description field4 ). This has been a long time in coming with Google having started some of this process in mid 2015, maybe earlier.
Sometime in the last quarter, I received a number of emails from concerned business that Google stopped auto-creating Google Plus pages when a new listing was created in the GMB. Over the past quarter Google apparently nuked the many G+ Pages local pages that were auto created but never used.
In what appears to be a final (or near final… who knows what dependencies5 still exist?) resolution Google has started sending out email alerts to businesses that have not been active on Plus that their pages will be removed if the business does not post something to the page within 30 days of receiving the email.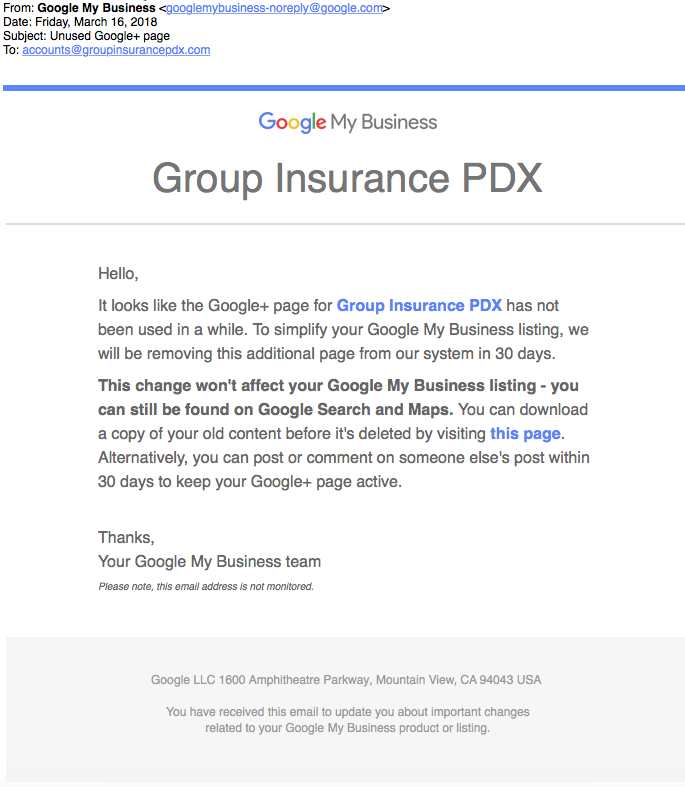 Email sent courtesy of Group Insurance PDX, an employer benefits consultant in Portland.
1 -One feature that has existed in G+ but has yet to make it over to the new Google local is a mechanism for communicating with a review poster. While this was possible with G+ none of the posters ever read their G+ so it didn't work but the feature is one well worth re-capturing.
2- The nail in the small business use case for G+ was the fact that the posts were hardly included in search. This small change would have provided a meaningful use case that would have kept Plus alive in the SEO and SMB communities. Posts has become both a great branding tool as well as an effective call to action in the SERPS.
3- By making the review link able to be auto generated and based on Google's Places ID is one of the factors that has allowed Google to surge ahead in the review race. They are garnering somewhere between 5 and 20 times the volume of reviews as Yelp or Facebook.
4- Description field? WTF?
5- One area that is not clear is whether a solid G+ presence will still be able to influence local search results by impacting relevance.