Understanding Google My Business & Local Search
Google Posts Rolling Out WorldWide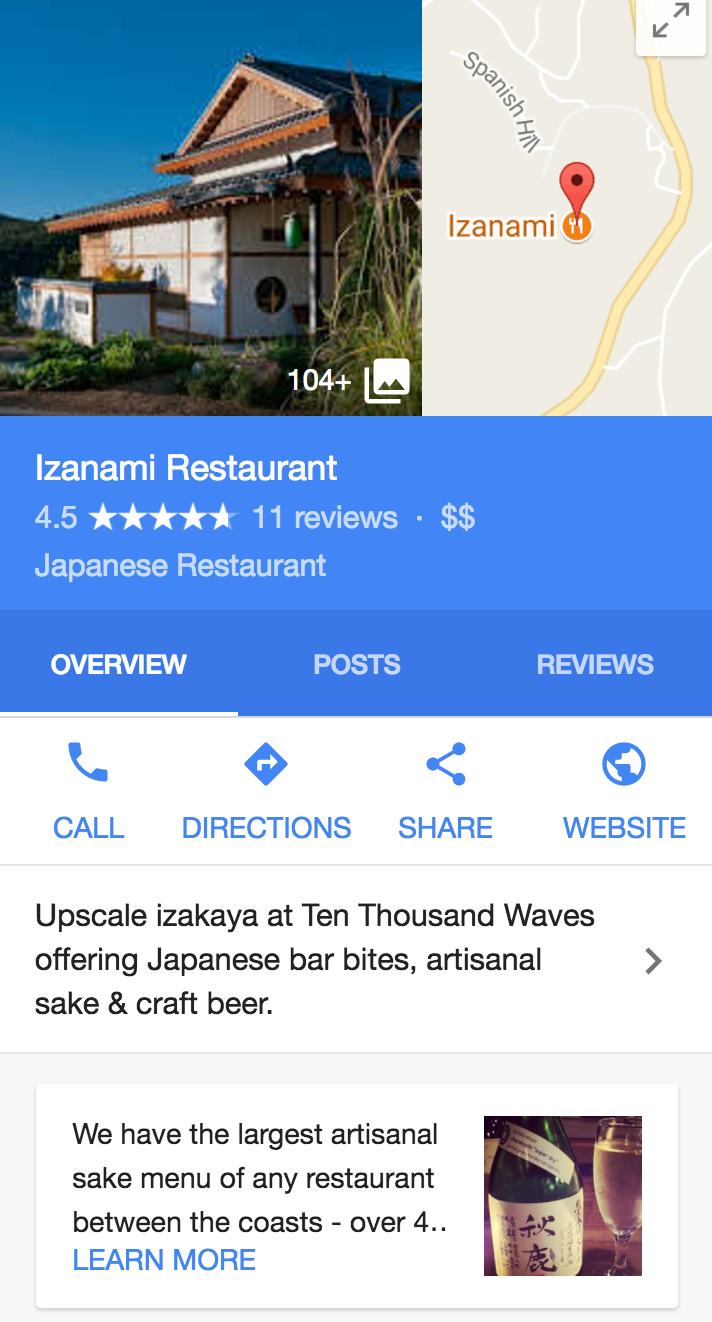 Google is formally announcing the world wide availability of Google Posts today. The product allows a business to micro-blog directly to their Knowledge Panel result, create Posts of up to 300 words in length and include a photo. The Post can be further defined as an event with a date range or a call to action link can be added with a URL to a page that the business's chooses.
According to Google the product will initially roll out to most categories of businesses but not all. Apparently (and not surprisingly given the degree of monetization) Hotels and B & B's are excluded at launch. I would be curious to learn which other categories where you are not seeing Posts being available.
Google is working to expand the available categories. The launch is specifically about providing Posts to Local businesses that are using  the GMB dashboard and is not available to brands via G+.
Posts have a limited life span of one week during which they will display within the Knowledge Panel. Posts designated as an event will last as long as the event timeframe. Up to ten posts will show simultaneously via a carousel type display which the user can scroll through to see those not showing in the panel.
In the mobile interface Google has added a 3rd tab to the Knowledge Panel for Posts in addition to the recently added Reviews tab. Current. Older posts are accessible via this tab.
On mobile,  the Post content card with the first 100 characters of the post shows ABOVE the address and is very prominent. Consistent with other recent Knowledge Panel and local developments, Google is obviously hoping the SMB generated content and/or reviews will keep users engaged in the Knowledge Panel specifically and search generally for a longer time.
Posts can be shared by users socially across Facebook, Twitter, G+ and email. A link is provided to access the post via search as well.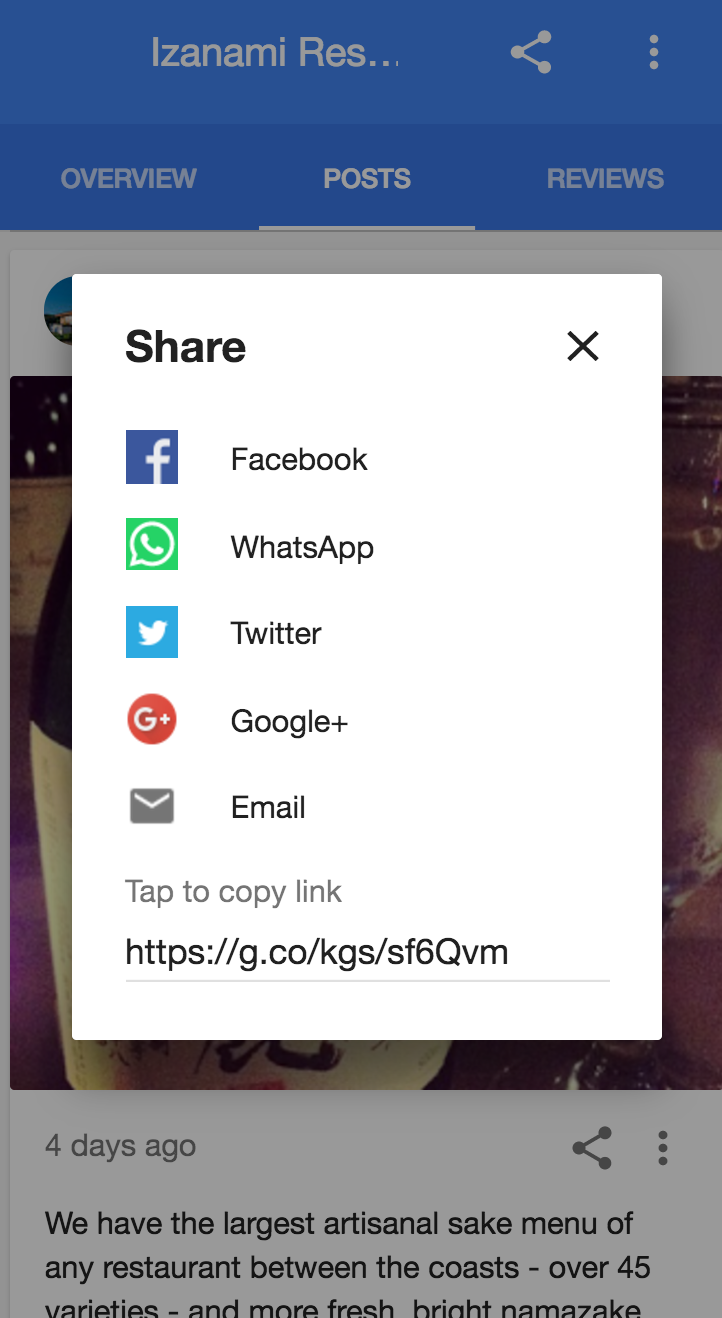 On the desktop the post shows in the branded Knowledge Panel for the business.  When a user sees a 3 Pack and the business is selected from the 3 Pack, the searcher is taken to the Local finder where they will have a second chance to see the Post. It is not yet clear exactly where or how Posts that have drifted off the front page will live for desktop users or whether they will be indexed, searchable and discoverable via search.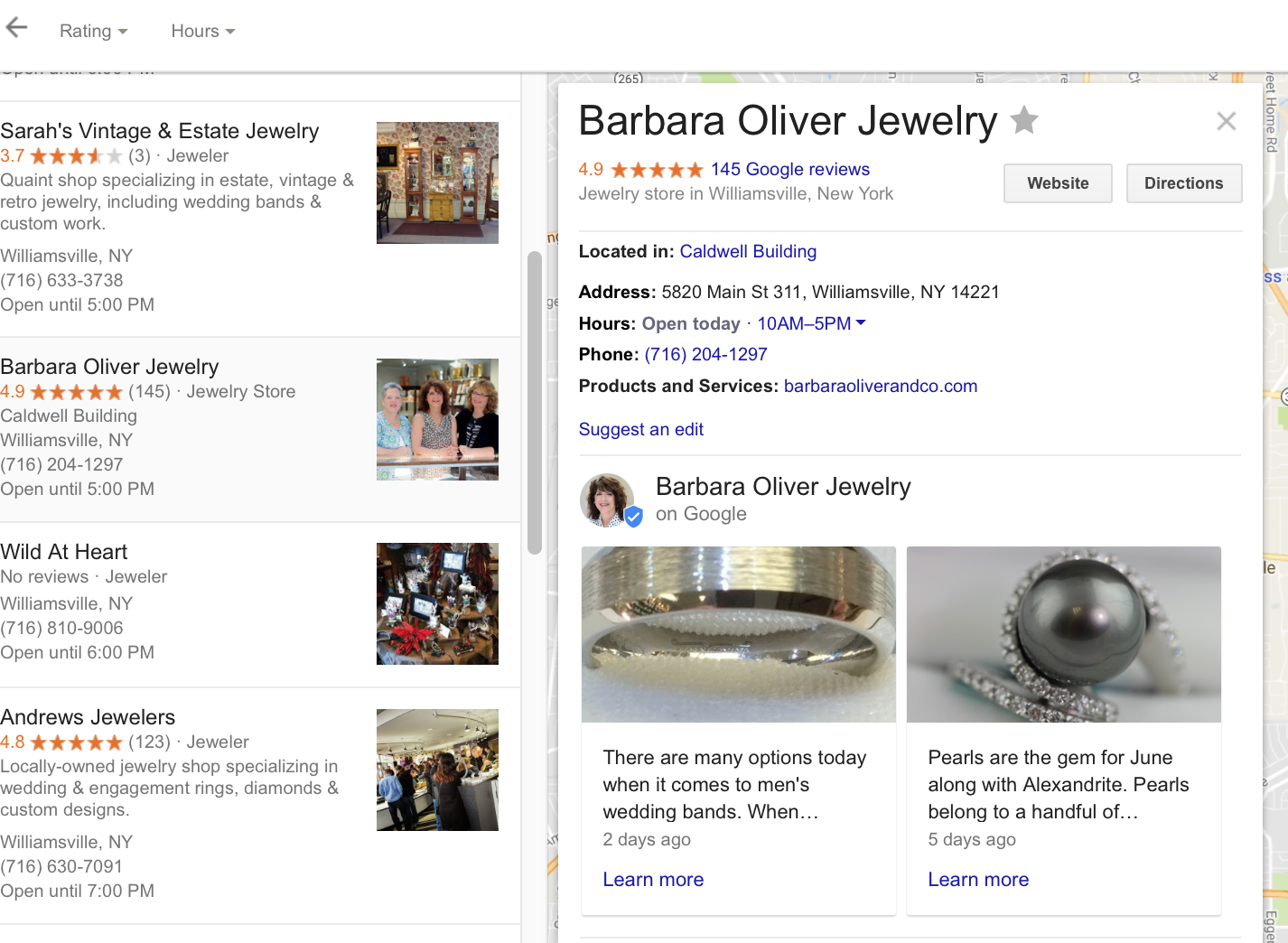 Unlike the recently released Website product, which focuses on smaller businesses in the developing world, Posts is clearly targeted at businesses that are already users of Google My Business in the US, Europe and elsewhere. It appears to be both a sticky way to get businesses back into the GMB dashboard regularly and as a response to Facebook's ease of posting. Like Websites, it does give Google potential access to the type of content that businesses are currently sharing on Facebook but to which Google has very limited access.
While there are those that speculate as to when it will be monetized, my sense is that, for the present, the Posts product is the hook to attract businesses back to Google on a regular basis where the business owner will then be pitched on AdWords Express and other fee based products. Who knows what will happen after Google finally monetizes every other nook and cranny in local but for the foreseeable future its a loss leader not an income generator.
To some extent, given its placement, it might offer local restaurants a way to put their reservation link front and center above those of the many order companies looking to get a piece of the pie. There is a vocal and unhappy crowd of local restaurants in the forums that still think the Knowledge Panel and local listings are theirs and that order links over which they have no control are an abomination. (I happen to agree with them).
Creation of a post is dead simple. It is accessed from the GMB dashboard via a highly placed left side link or via a card. The card shows your latest post with the number of times the post has been seen.

Analytics are lightweight with Google only showing total times it was seen and the number of actions taken. Actions are only visible if you click into a specific post. This data doesn't appear to be included in Insights and there is no current way to see the data from posts over time or in an aggregate view to be able to easily assess what is working and what is not. Google has indicated that Insights will be addressed.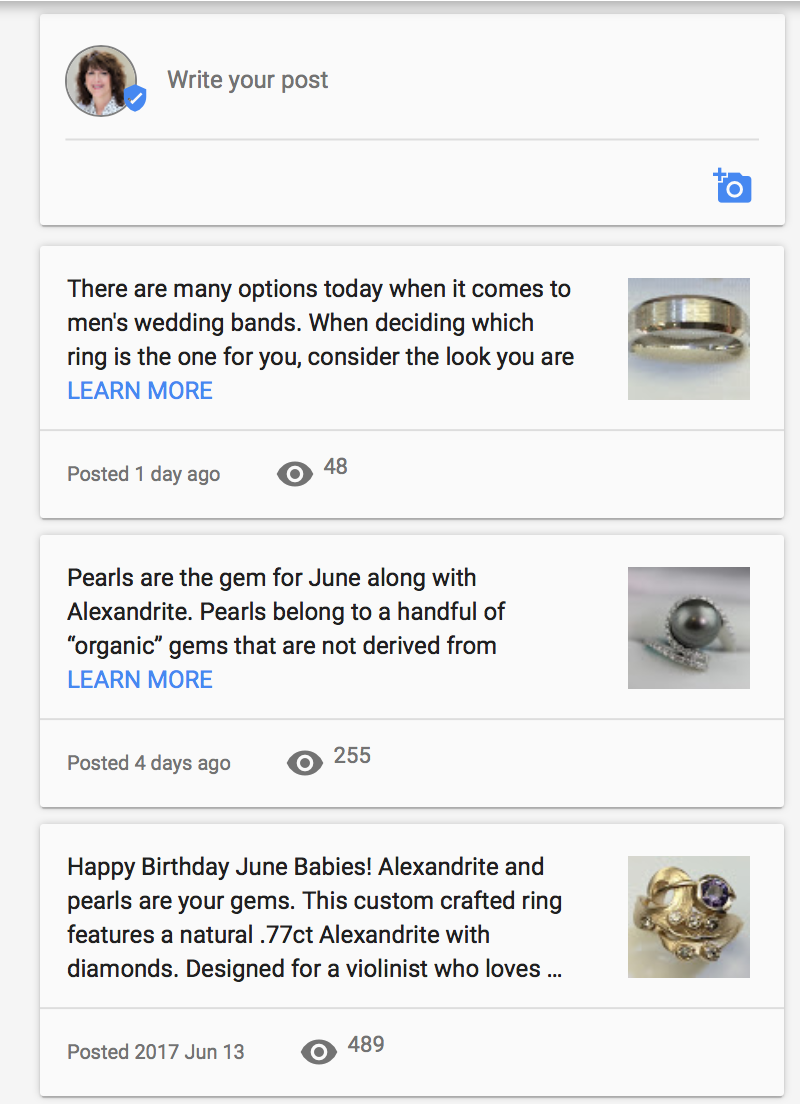 As noted, when creating the post you can add a photo (animated gifs and video are not supported). A pixel size of 750 x 750 is recommended with a minimum of 250 x 250 required. It auto crops the image to square and allows the user to easily identify which part of the photo should show. It is not yet clear whether that aspect ratio is respected in all display contexts as I have seen several different desktop displays.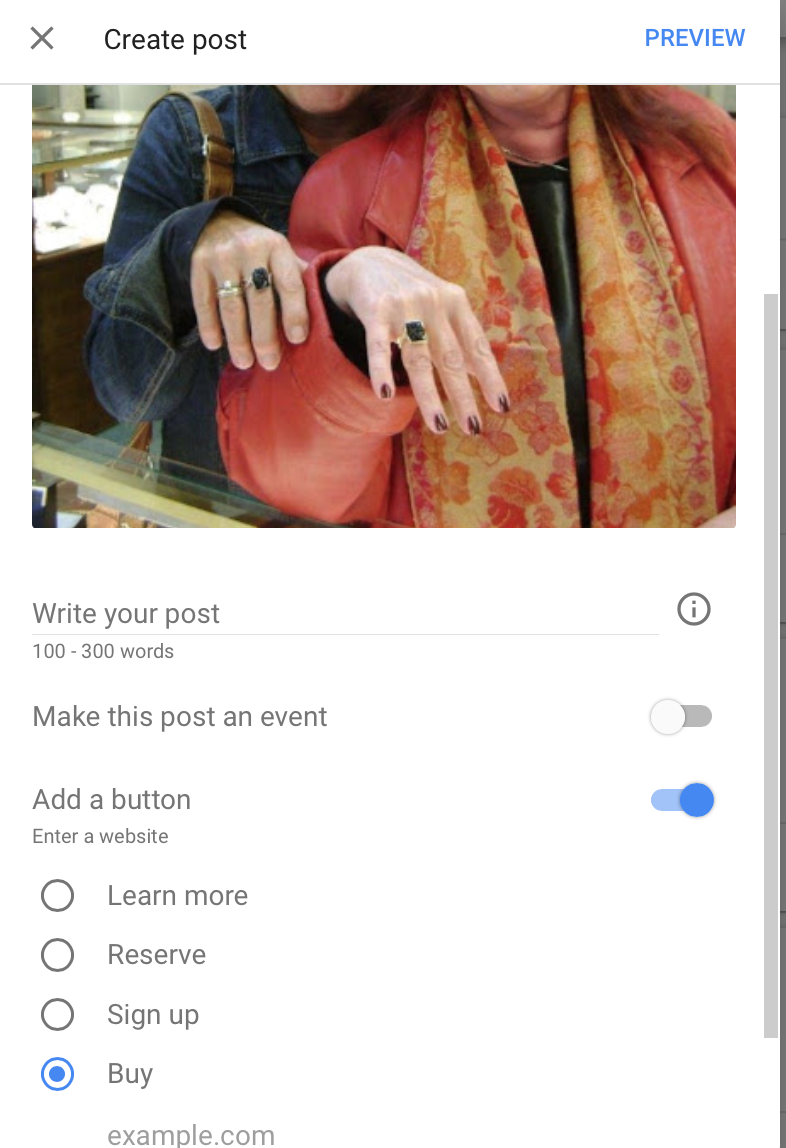 The post, as noted, needs to be between 100 and 300 words in length. ONLY the first 100 characters show in the Knowledge Panel at the time of search so you need to make the first 100 characters really count in terms of messaging. The call to action can be selected only from the given list of Learn More, Reserve, Sign up and Buy. There currently is no verbiage that allows for "Book" or "Make an Appointment". Google did note that they are open to adding addtional calls to action in the future. While it is not very emphatic on the desktop, the call to action is very obvious on mobile which is where the Post is most likely to be seen.
It will be interesting to see SMB uptake of the product. The product is easy for the SMB to use and more importantly, easy to understand what it does. In that sense it sidesteps the intrinsic complexity of local search and offers up a simple, functional product.  It provides some amount of organic reach for free (clearly in contrast to declining post reach in Facebook). But it is visible only after a consumer has in one way or another chosen your business thus limiting the reach to either a brand recovery search or a very late in the funnel keyword search.
Obviously there is a looming question of how spam will be handled, how automated Google's removal is and how nuanced it is. Google has delineated a number of abuses that will lead to removal (additional Help files are here).
It is no small issue if they don't take down obvious spam or if they do take down legitimate posts that have been improperly identified as spam. Given the short life cycle (7 days) of a Post, I doubt that there will be any reconsideration requests. But I can imagine users flooding the forums wondering why their post isn't visible.
It is the sort of product that Google was discussing in 2012 in the form of the "Business Builder" but that has been delayed by the loss of Marissa Mayer, the change over to the Knowledge Graph, the forced march into and the exit from G+ and a number of back end updates that were needed to bring the GMB dashboard into the modern world.
By the same token this is the second major new feature added to the Google My Business Dashboard within the past two weeks. Interestingly these two features do not yet work together. But this rapid rate  of introductions indicates both significant resource allocation and a certain sense of urgency on the part of Google. Unlike efforts with Plus, this new product open up the front page of Google to small business content. That could be a huge differentiator if leveraged.
Google Local has long been the doormat and not the door at Google. So, despite limitations of the product, I welcome the fact that Local is finally moving forward.
As in all things Google, their antipathy towards marketing and advertising might hamper this products adoption. If the product survives and is promoted it should see significant SMB uptake
Here are some examples of businesses that are currently showing Posts. If you have an example of a business using it in a particularly creative and/or successful way please send it along.
Just Mind Austin tx
Barbara Oliver Jewelry Buffalo NY
izanami Restaurant Santa Fe