Understanding Google My Business & Local Search
Unannounced Google Posts Beta Gets Help Files & Content Policy
Google Posts, a simple blogging like tool for the Google My Business Dashboard that posts directly to the Knowledge Panel, is still in beta and is, as yet,  unannounced as a product1. But it now has several Help Pages.
The Post Help section has 3 pages: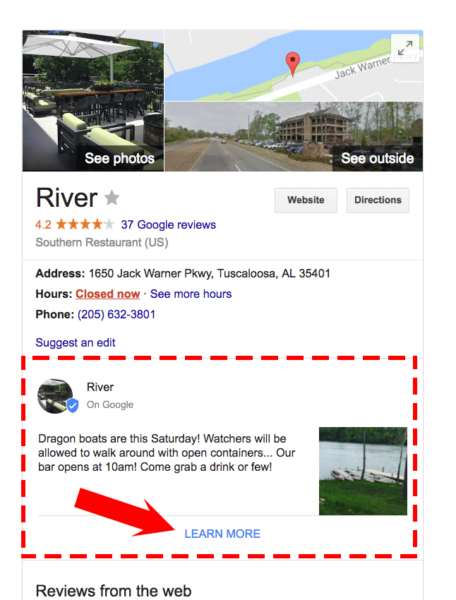 Given that the product allows direct posting of content by a business  to that business's Knowledge Panel in the main search results, the Content Policy for the product  is of particular interest. The problem with spammy, inappropriate content is likely to be a huge issue for Google with Posts.
Google, in crafting the rules very broadly, has left themselves a ton of latitude as to which posts can be pulled down. While it isn't clear which types or frequency of inappropriate posts would lead to a suspension of the feature, it seems obvious from the content that suspension is a possibility.
And while broad in scope there are a number of specific scenarios, practices and business types that are called out. The obvious like child porn, phishing, bait & switch and  escort services are obviously prohibited. But  "content related to regulated products and services, including alcohol, gambling, financial services, pharmaceuticals and unapproved supplements or health/medical devices" is excluded as well.
Another interesting restriction, very broad in intent, is the prohibition of "Images, videos or links that negatively distracts user attention". Isn't that what this product was designed to do?
While it is not yet clear whether and how abusive content will be taken down, I would presume that one reason for the long beta (this product was first seen early in 2016) was the need to automate this process.
What are your thoughts on the Posts product in general?
Will it make it out of Beta and will it be successful? What is success in this context? Will giving small business a simple, direct post to search gain mindshare vis a vis Facebook?
And more to the point, will Google be able to control the inevitable spam that will spew from the product with the rules promulgated in this policy? Will Google be able to staunch the tide of Pay Day Loan and drug offers?
Here is the Post's Content Policy reproduced in full:. 
Posts content policy
Posting updates through Google My Business enables merchants to directly communicate relevant and timely information to our users. We've written these policies to help ensure any published content creates a positive experience for users. We also occasionally modify these policies, so please check back here for any updates.
Relevant content
Published content should be relevant to the business that the author is posting on behalf of and help users better understand the business. Content that is irrelevant to the business or has no clear association with the business is not allowed. Please also refer to our overall guidelines on representing your business on Google.
Spam, malware, and deceptive behavior
Content published on this service should not be misleading to users and should be upfront and honest about the information being presented.
Examples of such content that is not allowed includes:
Repetitive content, misspellings, gimmicky character use, gibberish, or automated or distracting content (such as strobe effects, blurry or poor image quality or unrecognizable content)
Images, videos or links that negatively distracts user attention
Links to malware, viruses, or other harmful software
Links to sites irrelevant to the business
Impersonating an organization or individual
Do not use our services for phishing scams
Inaccurate promotion information that omits or obfuscates how the user will be billed or charged
Adult content
Content published on this service should not include any sexually suggestive or sexually explicit content. Images or video published on this service should not include nudity or sex acts. Content must not include profanity, slang terms that are sexually graphic and offensive, terms that are common signals for pedophilia, content that promotes pedophilia, bestiality, sexual violence, or content that promotes escort services or other services that may be interpreted as providing sexual acts in exchange for compensation. Links to adult content are not permitted.
Hateful or harassing content
This service does not allow harassing, bullying, or hateful content. Published content must not promote hatred or incite violence against individuals or groups based on ethnic origin, religion, disability, gender, age, veteran status, sexual orientation, or gender identity. Text, images, videos, or links cannot include slurs or derogatory epithets for protected groups. Content cannot be used to harass or bully individuals, including direct physical threats or exposing private information that could be used to carry out implied threats.
Personal and confidential information
Do not distribute other people's personal and confidential information, such as credit card numbers, confidential national ID numbers, or account passwords, without their permission. Do not post or distribute images or videos of minors without the necessary consent from their legal representatives. Report a violation
Child exploitation
Do not upload or share content that exploits or abuses children. This includes all child sexual abuse imagery (even cartoon images) and all content that presents children in a sexual manner. We will remove such content and take appropriate action, which may include disabling accounts and reporting to the National Center for Missing & Exploited Children (NCMEC) and law enforcement. Note that this policy may additionally apply to any content uploaded or transmitted through our Services.
If you find any content that you think exploits children in this manner, do not +1, reshare or comment on such content, even if your intent is to bring it to Google's attention. Instead, flag the content through the 'Report Abuse' link. If you find content elsewhere on the internet, please contact NCMEC directly.
Graphic violent content
Content that promotes or encourages violence, or that graphically depicts injuries, abuse of humans or animals, or violent acts are not permitted on this service.  Additionally content that is likely to shock or disgust is not permitted.
Impersonation
Do not use our Services to mislead or confuse users by pretending to be someone else or pretending to represent an organization you do not represent.
Regulated goods and services
Content authors are responsible for ensuring that their posted content comply with all applicable laws and regulations.
We do not allow content related to regulated products and services, including alcohol, gambling, financial services, pharmaceuticals and unapproved supplements or health/medical devices.
Content that is related to the sale of dangerous and illegal products, services, or activities that cause damage, harm or injury is not permitted. Examples of unpermitted content include: recreational drugs, weapons, fireworks and instructions for making explosives, tobacco products and detailed instructions for or otherwise encourage criminal activity that would lead to real-world harm.
1 While unannounced, use of the product continues to climb. In early March there were 14,700 posts. By the third week in March there were 30,000 indexed posts. Last week Glenn Gabe noted that there roughly 70,000 posts. As of today there are 79,600 posts in the index. The feature is appearing more and more broadly as well in the GMB. It appears to rolling out by vertical with several folks mentioning its appearance more broadly, for example, in the restaurant listings.