Understanding Google My Business & Local Search
Google Continues Testing of 'Posts' As Worldwide Use Expands
The product that was originally called Podium and is often referred to as Posts, continues to be tested as a small business tool that allows a business owner to post directly to their branded search result.
We saw the "Posts" like test in late January that included a call to action and posting on the right. Recently, Barbara Oliver Jewelry, a testing participant since last fall, saw her posts move from the main body section of the search results to the interior of the Knowledge Panel.
Here is the new test that Barbara is involved in (you can also see in this search result):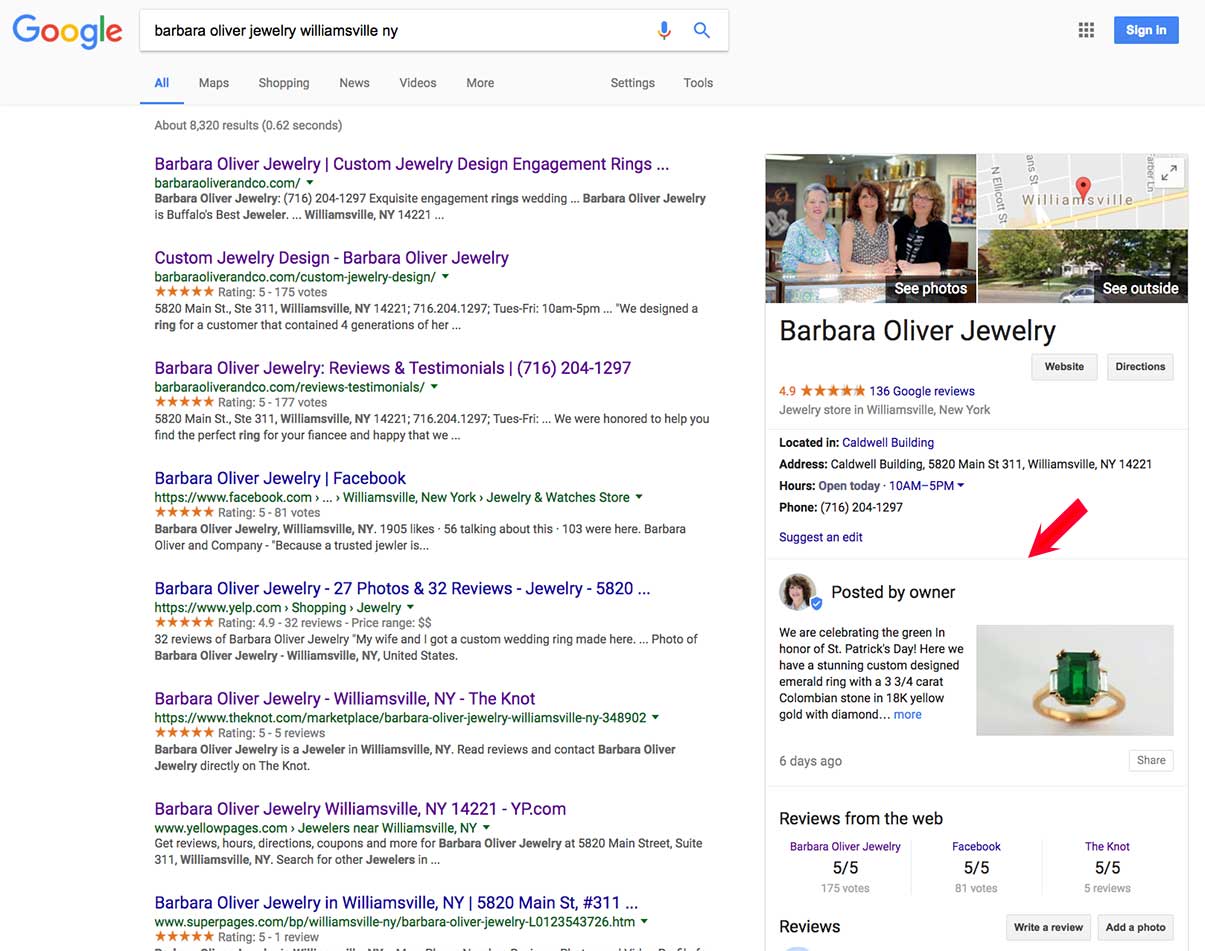 To a large extent, a great deal of consumer activity like click to calls & requesting driving directions now takes place either in the general local search results  or from within the Knowledge Panel in the branded result.
In a recent unpublished case study for a hotel, spa and restaurant with great brand recognition, 50% of their total click to calls across all of the internet came directly from the Knowledge Panel or a direct look up in Google Maps. Being able to speak directly to the consumer in this way would be a powerful and visible tool that I think would have rapid adoption.
As Glenn Gabe noted in early March utilization of the product seems to be growing world wide.
A quick check reveals another increase in the number of Google Posts indexed. Now up to 22,300 from 14,700 last week. @mblumenthal #seo pic.twitter.com/MUVcabHkdf

— Glenn Gabe (@glenngabe) March 5, 2017
When I checked today there were over 30,000 indexed posts. That is a doubling in the past month. I am not sure whether that is a result of increased usage from the same businesses or more businesses creating posts. Regardless that is a lot of content that is being created directly on Google's servers.
When it is finally introduced, it would be the first Google response to Facebook that makes sense from an SMB perspective and might shift some SMB mind share back to Google.
I am guardedly optimistic that it will make it out of beta into the hands of the world of SMBs. How long it stays there and stays free are open questions.
In related news, Google has announced the expansion of the Posts tests to organizations and individuals:
Starting today, in the U.S. and Brazil, we're taking it to the next step and opening up the application process so that organizations and people within specific categories can post directly on Google.
Now, when you search for museums, sports teams, sports leagues, movies and, in Brazil for now, musicians, you can find content from that participating organization or person, right on Google. So if you're searching for the Henry Ford Museum in the U.S. or for Vanessa da Mata in Brazil, you'll see updates directly from the source with relevant information, like new exhibits, timely updates and interesting facts. Beyond these categories in the U.S. and Brazil, we'll continue to experiment globally and look forward to making Search even more useful and timely.
Although announced today, it is clear that the Henry Ford Museum has been a participant since September of 2016 and Vanessa Darlene Mata since the first of February this year.  While the program may or may not have been expanded today, Google's publicity about it has.
Here is a screen shots of Barbara Oliver from last week for comparison and of the Henry Ford Museum for reference: