Understanding Google My Business & Local Search
Google Testing New Local Knowledge Panel Call to Action
Thibault Adda, the Internet Marketing Coordinator at Roar! Internet Marketing in Altamont Springs, FL, shared an interesting search result with me.
Google is apparently testing a new, direct to the Knowledge Panel call to action from local business owners. It is similar to, but different than the Google Posts (aka Podium, aka the product that shall not be named) that allows businesses to post directly to their branded search results. This KP Posting product posts directly the Knowledge Panel directly above Reviews from the web.
The test is currently visible on this search for Theme Park Connection in Orlando.
The current iteration seems only half baked as a click on the call to action to learn more takes the user to driving directions. Unlike Google Posts, this product seems to be more commercial in nature and includes discounts, pricing and a call to action. Those behaviors were explicitly prohibited in the Google Posts tests.
Update: I did confirm from Google that this is a follow test for the Google Posts platform with different positioning and a more liberal approach to commercial messaging.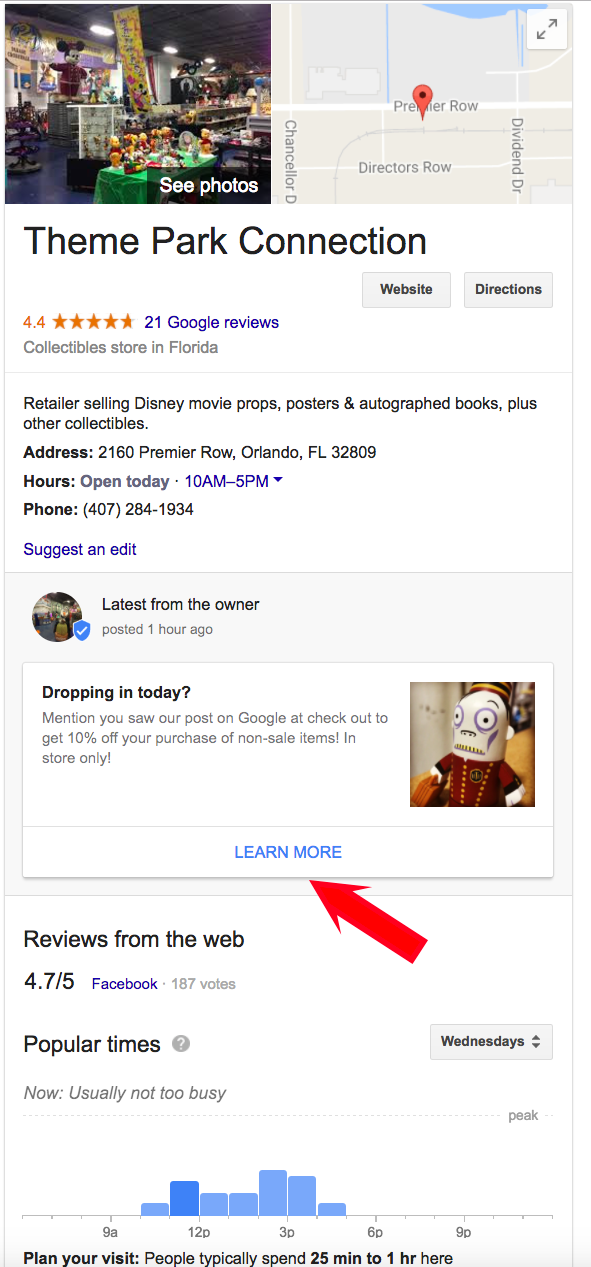 It is not clear how wide spread the test is, whether its available beyond local businesses or within other types of Knowledge Panels. It is also not clear whether it is intended to be free and an ad unit.
If you have seen others of these let me know.
Your thoughts?