Understanding Google My Business & Local Search
Google Home Services Ads – Whats the Hold Up?
Google Home Services Ads were first tested in July, 2015. In August of that year they went public as part and parcel of Google Adwords Express. We have also seen it tested both without and with the 3 pack.  And as of yesterday we saw that Google was promoting the product's use strictly by phone.
When Google Home Services was first introduced it was only available in very few verticals; plumbers and locksmiths and shortly after house cleaners and handymen.
The Google AdWords inquiry form does have a field for "other" and Peter Troast of Energy Circle sent me a screen shot of its recent use for the HVAC industry: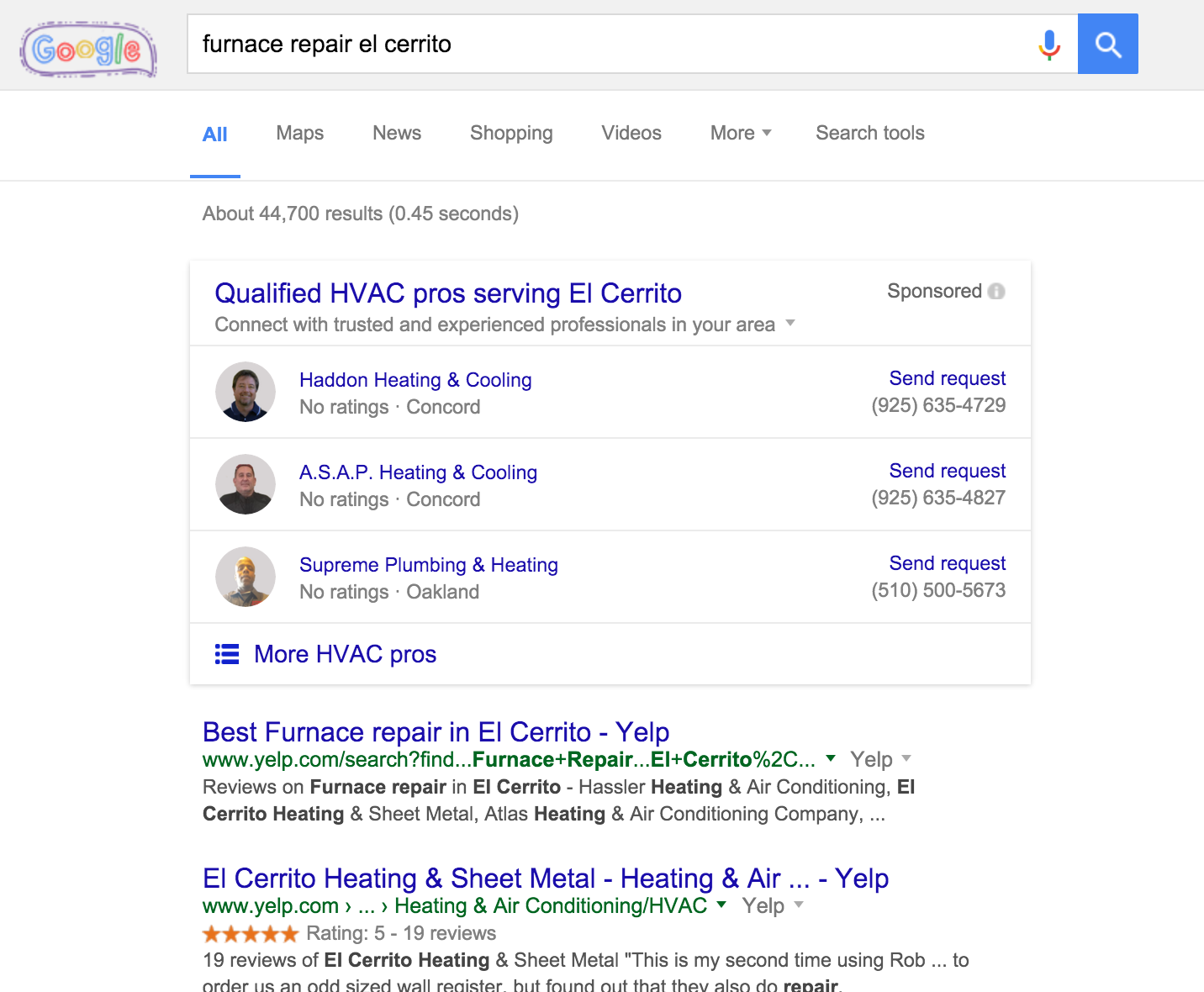 While we have seen slow and steady testing in different verticals we have seen no real significant expansion of  the area where the ad is available.  It was and is currently only available in the San Francisco Bay area and south to Los Gatos.  Here is a map I created showing the cities currently accepting ads for the programs (list of cities was provided to me by AdWords support):

Given the very slow rollout, limited geography and Google's many cancelled attempts at lead gen products like insurance quotes and car leads one has to wonder why this has not rolled out any faster. Is the product going to roll out and they are just working through the details? Or is it like the two mentioned above, just another test that will be axed sooner rather than later?
So questions for you all:
What do you think? Are Home Services Ads a keeper for Google?
Are you seeing verticals for Home Services ads besides the ones mentioned?
Are you seeing them outside of the cities that the Adwords support rep sent me?
Here are a list of the cities where it is currently available. 
| | |
| --- | --- |
| City | City |
| Alameda, CA | Milpitas, CA |
| Albany, CA | Mountain View, CA |
| Atherton, CA | Newark, CA |
| Belmont, CA | Oakland, CA |
| Berkley, CA | Palo Alto, CA |
| Brisbane, CA | Piedrnont, CA |
| Burlingame, CA | Redwood City, CA |
| Campbell, CA | Richmond, CA |
| Castro Valley, CA | San Bruno, CA |
| Cupertino, CA | San Carlos, CA |
| Daly City, CA | San Francisco, CA |
| East Palo Alto, CA | San Leandro, CA |
| El Cerrito, CA | San Lorenzo, CA |
| Erneryville, CA | San Jose, CA |
| Foster City, CA | San Mateo, CA |
| Fremont, CA | Santa Clara, CA |
| Hayward, CA | Saratoga, CA |
| Hillsborough, CA | South San Francisco, CA |
| Los Altos, CA | Stanford, CA |
| Los Gatos, CA | Sunnyvale, CA |
| Menlo Park, CA | Union City, CA |
| Millbrae, CA | |