Understanding Google My Business & Local Search
Google Testing Sponsored Home Services Marketplace Snak Paks
Updated 8:15 PM with images and details captured by Glenn Gabe of of G-Squared Interactive.
Dr. Pete Meyers of Moz posted this screen shot of a sponsored Snak Pak test displayed for the search "plumbers" in San Francisco. It was captured on a desktop search last night.
Reports of Google getting into home services first surfaced this spring with reports at  Inc. (h/t David Mihm) and Buzzfeed where they noted:
The product will be integrated into Google's core search offering and is intended to capitalize on search intent, turning queries about home improvement tasks into engagement with home-service providers.
Essentially in this scenario captured by Pete, the Snak Pak becomes pay to play and the goal isn't a website visit but a call for a booking. Although it doesn't appear to go so far as to creating a booking, that would not be hard to imagine as a next step.
. As Dr Pete noted at Twitter: potential game-changer, IMO.
I'll say. We always wondered when paid listings would enter the pack. The time seems to be getting closer.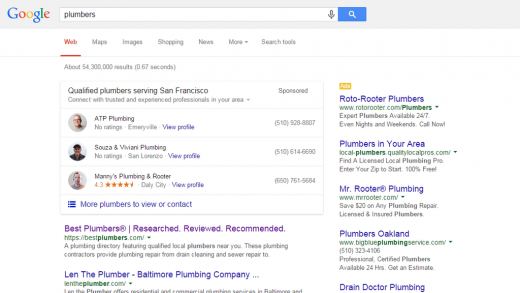 Here is the shot blown up: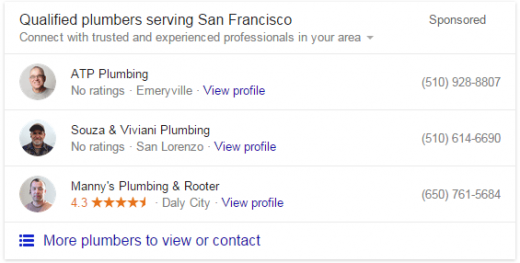 Update: Google Adwords has confirmed that this is a test Home service Ad and is in San Francisco only.
@BryantGarvin No, not the ad that @dr_pete had a screenshot of. This is a beta Home Service ad, not a location extension ad format. -Grace

— Google AdWords (@adwords) July 29, 2015
@dr_pete Hi Pete, yes – currently only for the SF Bay Area. If this changes, however, we'll be sure to let you know! -Grace

— Google AdWords (@adwords) July 29, 2015
Glenn Gabe of G-Squared Interactive was able to catch a view of the ad live and captured these screen shots and shared them on Twitter: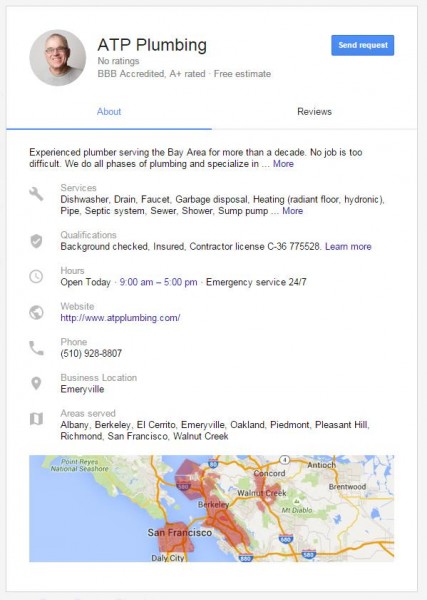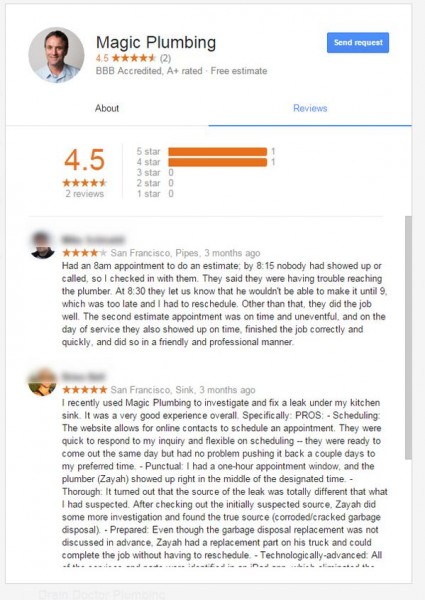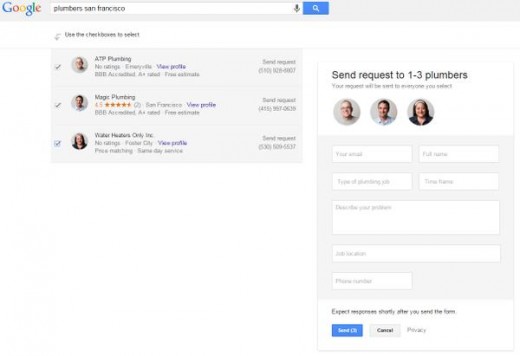 Here are the Google instructions for How businesses qualify for home service ads (also uncovered by Glenn) that details the licensing and background checks required:
How Google screens home service professionals

Background checks
All businesses shown in home service ads must require each of their in-home workers to undergo background checks by Pinkerton Consulting and Investigations, Inc., a third-party risk management and security company. You can read more about the requirements in our Policy Center.
The background check process includes inquiries about the validity of home service professionals' Social Security numbers, criminal history (including cross-checks against national sex offender, terrorist, and sanctions registries and lists), and trade license and insurance verifications.
License checks
Pinkerton verifies the trade licenses identified by home service professionals during the background check process.
Locksmiths need a valid license from the Bureau of Security and Investigative Services. They also need a general contractor's license to perform services costing greater than $500.
Plumbers need a general contractor's license to perform services costing greater than $500. Plumbers and handymen without a contractor's license may still appear in home service ads, but are prohibited from performing services that cost more than this limit.
Insurance checks
Google requires home service businesses to carry insurance coverage for work performed.
Reputation assessment
We want to connect you with the most qualified, recommended and trusted businesses. That's why we also do research on the online reputations of each home service business.
We collect ratings and reviews from people who hired home service professionals through our home service ads, and use mystery shoppers—customers who communicate and hire professionals on our behalf without mentioning any affiliation with Google—to help us learn more about the customer experience. We may suspend or terminate businesses based on poor ratings or mystery shopping experiences, as described in our Policy Center.
How to see home service professionals' qualifications
After searching for a locksmith or plumber, click View profile to see a detailed profile including more information about that professional's qualifications.
If the business you contacted doesn't have a contractor's license, we'll let you know that it's only qualified to perform services costing less than $500.
Given that the current search returns a full array of Adwords ads (3 at the top and 8 along the right side) for the search Plumber San Francisco, one wonders what sort of pricing would be needed by Google to replace the lost income from the current ad inventory?