Understanding Google My Business & Local Search
Google Testing HSA display + Local 3 Pack
Service businesses have been in a tizzy of late worrying about the possible demise of the local pack and its replacement by the Home Services Ad format. This would effectively monetize all of the prime real estate in local search and interject Google into their quoting process.
Maybe this screen shot will provide a small safe harbor in an otherwise stormy Google.
David Rodecker of Local Splash just shared this screenshot for the search: Plumber Emerald Hills which includes both the home service ad pack PLUS the new Local 3 -Pack.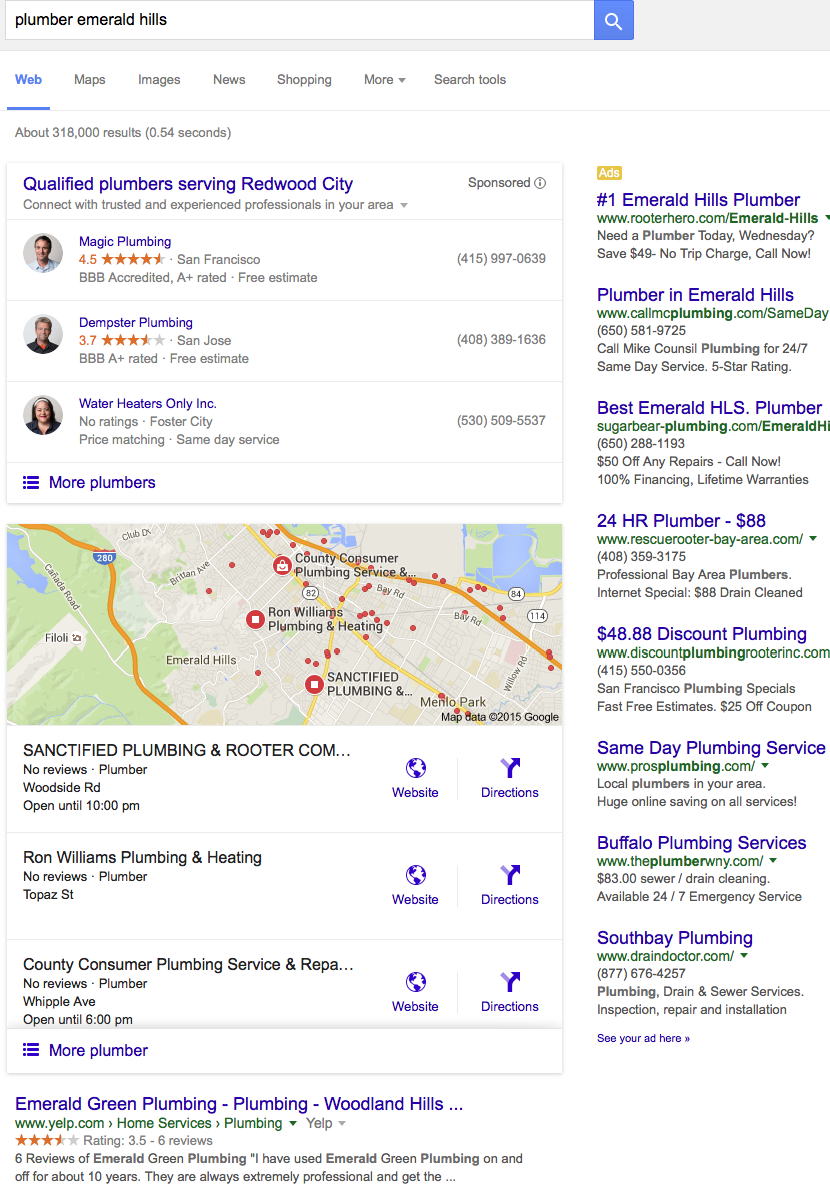 Clearly this layout is a test as while it is currently returning this result for the Emerald Hills plumber search, it does not return for a San Francisco plumber search. As a side note, the Home Service Ad is now showing as far south as plumber san jose (that seems to be an expansion?).
I get why service area businesses are worried but I have, after many years of dealing with Google, learned that all you can count on with them is the NOW. Google is what Google does, today (only). They test so fast, change so quickly that their rate of change is quicker than you can ever respond as a business.
Thus the only offense is a good defense. Diversify, diversify, diversify. Diversify your search strategy to go after more organic and long tail opportunities plus video and Adwords. Diversify your advertising into other avenues besides Google even if the ROI is not as high as search.
But most importantly diversity your customer relations and retention. The best customer is one you already have not one that you have to find anew.
Make sure that you are taking care of every customer in a way that makes them want to share your information with their friends. Make sure you are staying in touch and get their buy in on how they want to hear from you in the future whether that is email, text or Facebook. Figure out a way to measure their satisfaction and if it isn't the best in the market figure out how to change your approach so that it is.
Only then will you have some immunity from the vagaries of Google local search.