Understanding Google My Business & Local Search
Google – Some Days I Just Shake My Head – Today is One of Them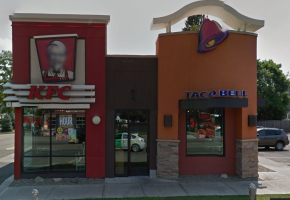 Over the past several days, a number of Google "annoyances" have cropped up…. sometimes it is amazing where a company like Google chooses to put its head…. that I wanted to get off my chest.
1- Did you know that Google's bulk upload, even though upgraded multiple times with a raft of new ownership, management and social features still has a 200 character limit to the description field? Only known solution: open every G+ Page and upgrade the description manually. Even the few companies that have access to the G+ Plus API and that manage bulk uploads can't affect this field.  How lame is that?
2- Google obviously put a lot of work into the new guidelines and the examples. And in many cases made things much more clear. Kudos.
But then why do they need to obfuscate things like virtual office guidelines?
If your business rents a temporary, "virtual" office at a different address from your primary business, do not create a page for that location unless it is staffed during your normal business hours.
That statement could have been written by Franz Kafka… and leaves one in awe. Just what does it mean? Was it intentionally meant to not inform so that it could be enforced only when desired?
Certainly they deserve scorn over the descriptor fiasco but it seems to me that there are new fiascos in the making with their "Two or more brands at the same location" guidelines in general their examples in particular.
Acceptable: "TCC Verizon Wireless Premium Retailer", "U-Haul Neighborhood Dealer"
I don't know about Verizon but I do know about U-Haul Neighborhood Dealers. These are gas stations, repair shops and used car lots that have added U-Haul as a product line. This U-Haul Neighborhood Dealer is also Cars Are Us. Same paluka answering both phones and as you can see from Streetview no obvious U Haul branding. Yet he gets two pages not one. Isn't that what categories are for?
And somehow those tiny KFC/Taco Bell shops garner two pages while the Lebanese, Greek, American, Italian restaurant would be tagged a spammer if they had two.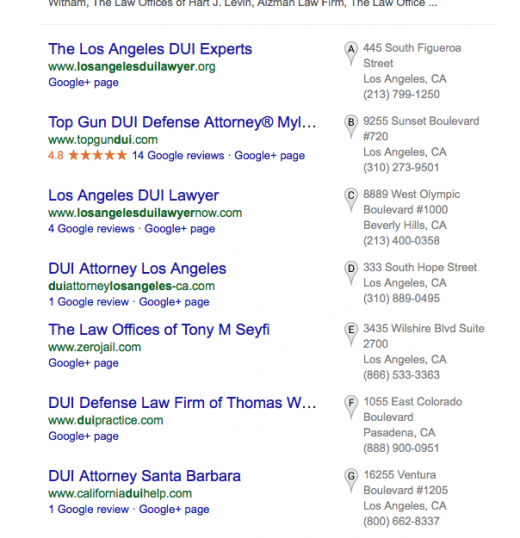 3- And finally spam in general but DUI Lawyer spam in LA in particular. Name spam, location spam, spam, spam, spam.  Its on the front page, it's in maps. It's freakin' everywhere. When you call many of these listings they often won't answer with their company name just a "hello" and when you ask where they are located it will be any place but LA.
It isn't just DUI, its in virtually every major category in LA. See this post by Linda. And this stuff has been around for ages, reported multiple times, through multiple channels…. hello?