Understanding Google My Business & Local Search
Where Do Consumers Leave Local Reviews? Facebook Now #2
TL;dr: Amongst consumers that leave reviews more than once per year, which sites do consumers prefer for leaving reviews? The answer might surprise you. Google is number one overall but Facebook made a strong showing and outpaced Yelp for the number two spot as a preferred site to leave reviews.
Reviews have two sides:
Where do people read them?
and
Where do people like to leave them?
I suspected that the answers to these two questions might not be the same.
Facebook reviews received more of my attention with the Big Earl's controversy in early June. It elevated Facebook on my radar and I started gathering anecdotal evidence that Facebook was making inroads into the local review space despite the fact that they are not highlighting reviews in any significant way.
I also saw the phenomenon on Barbara Oliver's FB page despite her making no specific effort to get reviews there, they were piling up at a steady rate. I was even seeing Facebook ratings and reviews in industries like insurance that are notoriously hard to get reviews in.
To that end I created a large scale consumer survey at Google of US Adult internet users to first figure out who left reviews for local businesses regularly and then amongst those users, what sites they preferred for leaving reviews.
Using Google survey, I created a filter question to identify users (self reported) that left reviews at least once per year and eliminated from further study, those that rarely if ever left reviews.
We asked 2671 respondents the following with a choice of 5 possible answers:
After purchasing from a local business, I will take the time to leave an online review for that business (% response in parenthesis):
-Never (58.2%)
-Almost never – less than 1 review per year (19.6%)
-Occasionally – 1 to 5 reviews per year (15.7%)
-Somewhat frequently – 6 to 11 reviews per year (4.2%)
-Very frequently – 12 reviews or more a year (2.4%)
The vast majority of respondents noted they never or almost never leave reviews (77.8%). Is it any wonder that getting reviews is hard?
The 703 of those respondents (22.2% of the total) that answered occasionally, somewhat or very frequently were then asked a follow up question where they were asked to indicate their preferred site:
When you leave a review online for a local business which site are you most likely to use?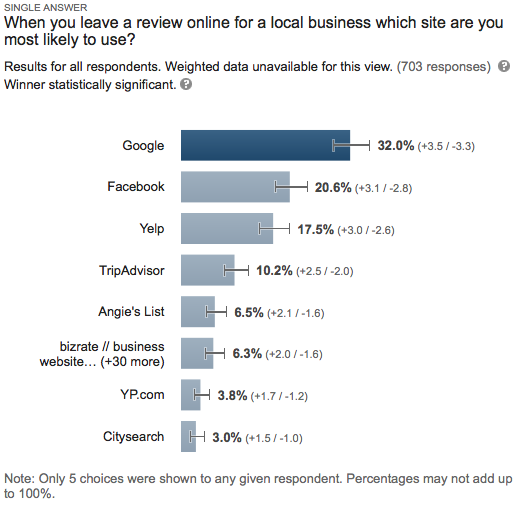 The margin of error in the survey is such that Google's "victory" is statistically significant. And one could argue that the difference between Facebook and Yelp is such that we can't really tell which is actually in second place.
But this survey is confirmed by a second survey I conducted where users were allowed to pick ALL sites they are likely to use (1002 responses).
Both Facebook and Yelp showed a gain in this survey due to their being second choices but again Facebook retained it's slim lead over Yelp. I would need to sample additional users to narrow the margin of error but it is obvious regardless that Facebook, without trying, has become a strong contender in the local review space.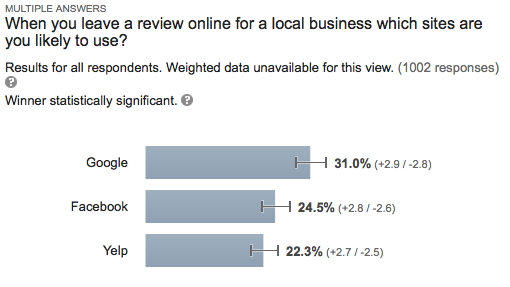 Obviously once you get past the three leaders, the remaining sites, lead by TripAdvisor, drop off. While TripAdvisor, given their strong travel industry focus, is in a solid position, one has to wonder whether Angie's List and YP.com can sustain their efforts when confronted by three major, general purpose review sites with much broader reach. CitySearch, if it isn't obvious is among the walking dead.
The story here is that Facebook, when folks in the marketing industry weren't looking, has become a major force in the review space. It is easy for users to leave reviews there from a login perspective and for many the interface is familiar and non threatening.
Even though the reviewer does need to navigate to the business's Facebook page, many seem to be willing to do so of their own accord and do so in significant numbers.
How SMBs and marketers should respond to this reality is another question, given how Facebook shows (or doesn't) these reviews.
The bigger question, as with all things relating to Facebook and Local, is when and how will Facebook actually leverage the assets in some concrete way in the local space?
In the next day or three we will be discussing both demographic nuances as well as an industry & local specific case study. Stay tuned.
Disclosure: Note that I am an owner and creator of GetFiveStars.com a reputation, feedback and review management product designed to help location based businesses (and their agency) gather feedback, understand who their best customers are and earn more reviews).  Thus I am obligated to note that have a vested financial interest in writing about reviews.