Understanding Google My Business & Local Search
Reviewer Demographics – Facebook has more Women, Yelp has more Men
We live in a big country. There are differences in behaviors between men and women, rural and urban and regionally. This is as true on line as it is offline.
Those who leave reviews are not a uniform lot nor are their preferred review sites. In my recent research as to which sites US internet users prefer to leave reviews, it was a 1,2,3 finish for Google, Facebook and Yelp. But there were interesting difference by gender, urbanicity and to an extent income as to which sites reviewers preferred. There are likely other differences as well but the sample size was not large enough to make conclusions.
Gender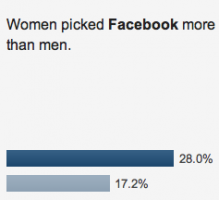 There was little gender differences among those that left reviews at Google, TripAdvisor, Angie's List or YP.com with each site having roughly equal number of males and females that preferred each site. Perhaps it is self evident but women comprised a significant majority amongst those that left reviews at Facebook. Yelp had a similar tilt towards men.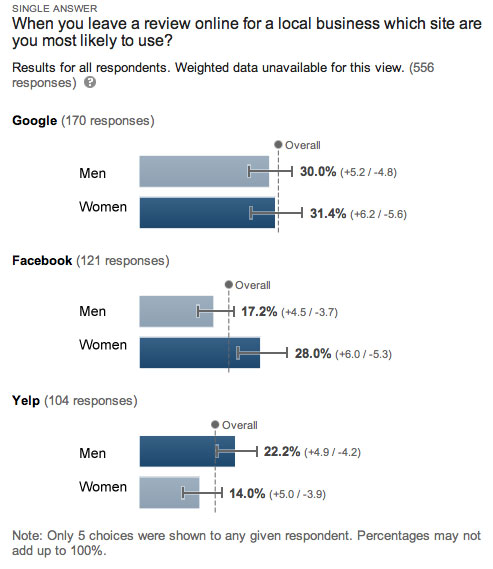 Urbanicity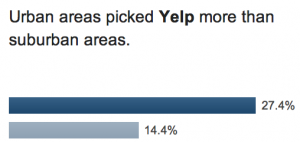 There was little difference in preference amongst those living in suburbia, rural or urban environs on Google, TripAdvisor, Angie's List. YP.com and Citysearch. But there was a distinct urban bent towards Yelp amongst its users and a definitive tilt towards suburban and rural users amongst those preferring to review on Facebook.
Regionality & Age
The data was not deep enough to ascertain significant differences in either age or regional preference. I suspect, based on past research that the Midwest is likely to be different than the west coast. If some really wants that data, a donation to the cause would get it for you. 🙂
Income
At the sample size that data could not be conclusive but it does appear that those preferring Yelp trended toward higher incomes and those using Facebook trended towards lower incomes. A larger sample size would be needed to confirm this.
The Takeaway?
One size does not fit all when it comes to consumer preferences in review site. If you as a marketer are trying to decide which sites to guide users towards based on their preferences, then you need to consider your industry, your demographics and their motivation levels.
You can't go wrong with Google as one choice. But it can be only one choice amongst several. The reality though is that only 32% of users preferred using it. Given that Google puts plenty of barriers in a new users way (think G+ sign up) and there are plenty of other frictions to leaving reviews there, Google doesn't work for a lot of folks.
The other way to look at that number is that 68% prefer to go elsewhere to leave a review. That is the vast majority.
If your market tends toward female and suburban then Facebook makes sense as a choice and if it tends toward male and urban then Yelp becomes a contender.
It also varies by industry. Tripadavisor appears to be at only 10% of the overall total but in the hotel industry alone that number is much higher as Yelp's in the restaurant world.
I have yet to determine how much choice is optimal for reviewers. Are you better off giving them 1, 2 or 3 options for leaving a review? I don't really know yet (although I am testing that). It appears though that one choice is clearly not enough.
Disclosure & Caveat emptor: I am a founder at GetFiveStars.com, an online feedback and reputation management product for location based business and thus you need to be aware that I have a vested interest in writing about reviews.