Understanding Google My Business & Local Search
Whitespark Reports a 24% Decline in Local Packs
Last week I reported that MozCast was showing a decline of over 60% in display of the Local Pack on Google after the recent local algo update. Moz was gracious enough to share their data and it was determined that their search queries had been obsoleted  by the update. So while their data was internally consistent they were likely overstating the drop.
I reached out to Darren Shaw at Whitespark and he agreed to analyze their historical ranking data on any decrease in display of the Local Pack as 1)they have a larger data set and 2)they set location differently (not using the near parameter).
Whitespark's results? A 24% decline in display of the pack during the two day peak drop (using the same date range as Moz). Not as large of a drop as indicated by Moz but a significant drop none the less.
Like Moz, their data show a small recovery subsequent to the initial multi day drop .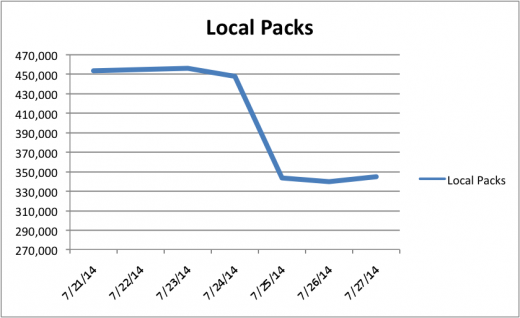 Terms that appear to have been dropped:
From Darren's post: Terms that appear to no longer be triggering local packs (based on our rank tracker data and some manual testing): 
mold removal
dui lawyer
dui lawyers
dui attorney
dui attorneys
real estate
realtors
emergency plumber
commercial * (painting, construction, remodeling, etc) – anything with commercial preceding it seems to have stopped returning a local pack.
Comments and notes.
What is reality? We won't ever know exactly how many Local Packs Google has stopped showing nor do we have any way to easily validate any of the methods used.
We have determined that the Moz methodology, while internally consistent, is likely over reporting the drop. Whitespark is setting location differently and is thus able to overcome the limit of the Moz report. Google though, has a great many tools at their disposal and we have no way of knowing how either data set measures up against searcher realities.
Discussion:
Moz's data are meant as a real time directional view of the data and in that sense served their purpose. Whitespark's data, on the other hand, is a retrospective review of actual ranking reports.
Whitespark used a search parameter than did not change as much and has a larger data set than Moz. While Whitespark's sample is larger, it too could deviate from reality as the phrases used are keywords chosen by businesses as "money terms" worth tracking and don't necessarily reflect the full reality of search.
Moz's data served it's intended function of validating observed changes in real time.
That all being said Whitespark's number is probably closer in size to reality than the Moz data as both anecdote and methodology seem more consistent in their results.
Conclusions:
There was a big drop. Phrases that previously returned a pack do so no more.
We will not ever know the exact size of the drop but it was likely not as large as originally reported. It is still big.
A number of businesses will be affected.
The changes are probably still occurring although at a much slower pace.