Understanding Google My Business & Local Search
Oh Where is Washington, NC? How to Fix a Google Map Error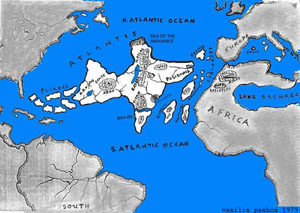 Egregious mapping errors occur a lot less these days on Google Maps. While roads are still being lost or misnamed in New Jersey, we have seen no lost towns and misplaced communities like we saw in 2009 and 2010. And truth be told the problem with roads in New Jersey may be just a reflection of some larger ground truth.
But when serious mapping errors do occur they are still painful and negatively impact the businesses involved.  I recently received this email from a forlorn innkeeper, Beckie Sipprell in Washington, NC:
Hello Mike,
Lisa Kolb at Acorn suggested tha tyou might be interested in a dilemma that we have in Washington NC. The town of Washington NC, not the County. That is the issue. When someone puts in Washington NC Bed and Breakfast or restaurants what shows on Google Maps are places in Washington County NC…and no one seems to know how to undo this.
If you have any magic in this department please pass it on to us. I am at a loss. Thank you for any help you might give.
I asked Dan Austin for a MapMaker perspective on the problem and whether anything could be done.
Here is his response (once again chock full of useful tidbits if you run into this issue).
Yes and no.
What Google Maps should do is offer you a choice between the county and the city, or just ignore the county altogether.  That is not 'normal' Maps behavior to pull up counties unless it's a specific search for the county.
I can't resolve it directly using MM, but the easiest way to handle it (without going through Maps Report a problem, which has not been trustworthy in my experience) is to go on to MM and use Edit/Report this to explain the issue (attach message below in the Comments field).  I would add it to each boundary (see below).
They might want to try both to see which method resolves quicker.
Google can resolve it using either Atlas/Ground Truth or dispatch an engineer to mess with the code.
Town:
County:
Message I would use:
You'll get a response back within a few days from MM telling you that they can't fix it, and that they've escalated to the appropriate team.  It may take a while to fix it.
It was tough to find the city.  I had to use the Browse mode (city/town/village category) as it didn't come up in the general search (it resolved to the county instead).  Edit, made no change to the city, saved as Draft, and then pulled it from my sidebar under My Activities, Everything.  (Future reference/MM kung fu technique.)