Understanding Google My Business & Local Search
Google Maps: Will We Ever See Sunrise?
Update 10/22 about dawn: Sunrise will occur at its regularly scheduled time and place today. Google has located the lost village of Sunrise Fl. Word is that champagne is being opened for breakfast. Mimosas are being served all around.
The say that it is always darkest hour just before the dawn. The seems particularly true for the businesses of Sunrise, Fl whose town seems to have been misplaced by Google for the second time in two years. As Sherry Tannozzini, owner of Flowers from the Rainflorist, noted in her blog: Google….the amazing search engine can find a gnat's pahtootie in Mozambique but can't keep two cities in Florida, located on opposite sides of the State and spelled differently in their right location.
Whenever a user searches for a business in Sunrise, FL, located on the east coast of Florida, the results are returned for businesses in Sarasota, Fl. which is on the west coast of Florida (Sunset, FL?).
The change, which was fixed at one time during the pre TeleAtlas times, seems to have reverted to bad data as a result of the recent Google Maps switch from use of TeleAtlas base map data to using their own.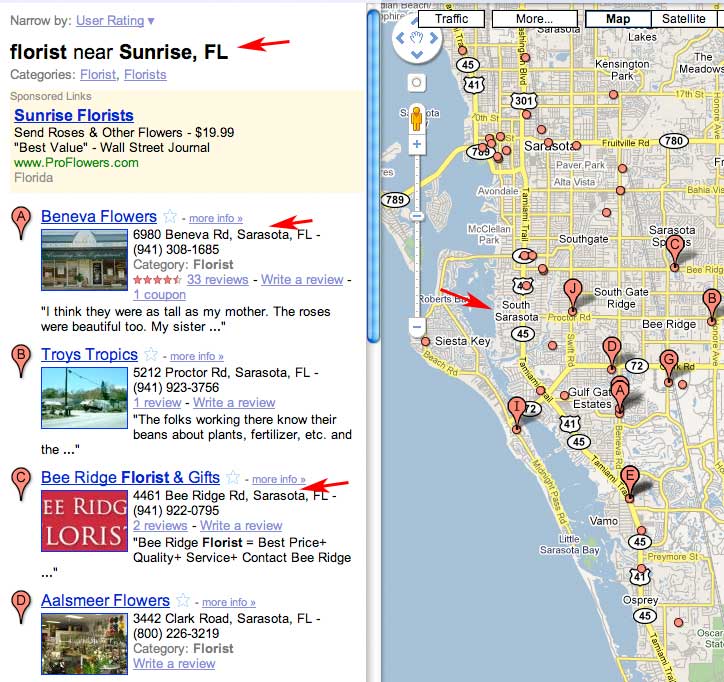 The error was reported via the Google Maps Report An Error link and via the forums. It will be an interesting test to see how quickly Google is able to respond to serious Map errors.
In the Google Maps Report a Problem FAQ Google notes:
In some cases we might not be able to immediately confirm a solution to your problem. Please be patient. As more people tell us about the issue, we'll have more information that we can use to verify the fix we need to make. Remember, if you sign in and let us know you want to be kept updated, we'll keep you posted on any changes to the status of your issue.
I only have one question for the folks of Sunrise:
Are residents called Sunriseans?
I have one question for Google:
How exactly are towns misplaced?