Understanding Google My Business & Local Search
Google Maps: What Happens When You Lose a Town?
Wikipedia seems to know, Mapquest knows, Bing knows, even Google Organic seems to know something that is a secret to Google Maps & Google Universal results – the whereabouts of Rogers, MN.
Well its not exactly true that Google Maps doesn't know where Rogers is. It is apparently more complex than that. But real life often is. The result though is the same.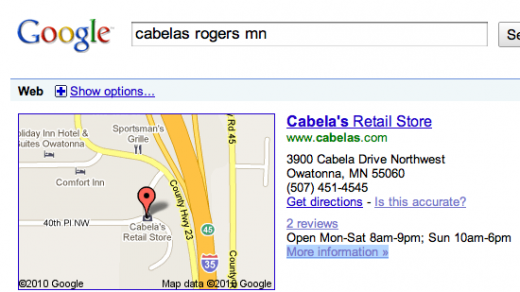 The Cabellas store that is in Rogers, MN can't be found by Google (it sends you to Owatonna, MN). The Hampton Inn & Suites that is in Rogers can't be found by Google (it sends you to Minneapolis). The reality is that not much that exists in Rogers including emergency services (it sends you to Burnsville ..some irony there) can be found by Google. Essentially, everything in the town of Rogers, MN 55374 is MIA unless you search on the zip code instead of the town name.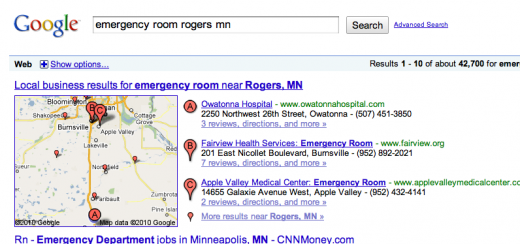 It appears that Rogers, MN might actually be two places. One , an up and coming fast growth community that is 40 miles or so Northwest of St. Paul and one, that seems little more than a road sign, that is 70 miles southwest of St. Paul. If you look carefully (ie by zip code) you can find the principle Rogers to the NW of St. Paul. I have ground checked the Rogers, MN 55374 and found that it really does exist. I am not all that confident on the other. I couldn't find anything or anybody there to call. 🙂
The problem is that when searching in Google, the apparent ambiguity is not recognized and, for whatever reason, the not so significant Rogers, MN gains precedence and nothing shows from the "real" Rogers. Thus no place in the Rogers, MN 55374 can be found. Not the baker, the butcher, not the candlestick maker and certainly not the doctor.
I attempted to explain this whole mess via the report a problem link but somehow the choices just didn't seem up to handling the problem. I did, in the end, manage to file a report after being booted out of the system once.
But is that really enough? Will it really be fixed in the promised 30 days?
I am hoping that Google takes pity on the poor town of Rogers, MN zip 55374 and finds them a place in the Maps world sooner.
PS Before I finished the article I did get an automated response from Google on Problem ID 94CB-A209-B92C-FD74…..

that they will send me an update once the case has been reviewed.
Here is the screen shot from Mapquest which handled the ambiguity properly: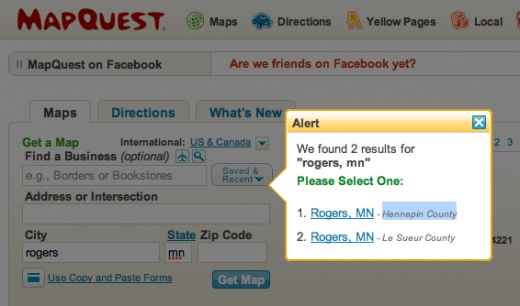 Here is the Bing embedded map showing the Cabella Store correctly: