Understanding Google My Business & Local Search
Local Carousel Ranking = Maps Ranking = Location Prominence
As Dave Rodecker pointed out the other day in his comments on the roll-out of the Local Carousel, the ranking algo that Google is using is the same location prominence algo used in the current/old Google Maps. There does not appear to be any blended/organic influences in the results that I have looked at so far and the ranking matches pin for pin in both Maps and the 7-Pack display for the same search results. This pattern has held true across every search that I have examined so far.
That being said, it is not at all clear to me that a first, left position is all that advantageous and the jury is still out as to user behaviors with this new display. It is likely that clicks will be more evenly distributed.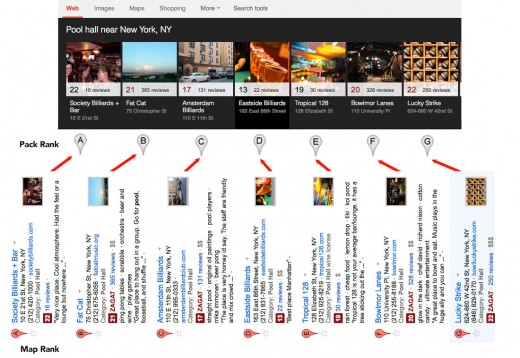 The implications?
1-Traditional Location prominence factors of citations, reviews, branded links etc are more important than pure web rank.
2- It also means that if you have a strong ranking web page for the same search it will also show.  And for those users that move down to the organic results that will be very important. Authorship in this context would be hugely valuable.
3- The photo is going to have a huge impact on click through.
4- Given that Google might choose a different photo than you provided it is necessary to be sure that ALL of your photos around the web are as good as possible.