Understanding Google My Business & Local Search
Google Acquires Incentive Targeting For Coupon Programs
Mike Dudas of Google just tweeted that Google has acquired Incentive Targeting to power highly targeted manufacturer and private label coupon programs. He noted that "Incentive Targeting..[does] for retail couponing what Google [does] for online advertising: make simple, relevant, measurable, & effective"
It would appear that the acquisition is for both talent and IP. And as Greg Sterling points out strategic. The company website notes that their "patent-pending technology allows non-technical marketing executives to design sophisticated, relevant promotions—and measure ROI in real time—directly over the Internet". The product is interesting because it will deliver the coupon either via cell phone & social networks or via traditional methods of print and register receipt AND closes the loop for easy redemption and tracking.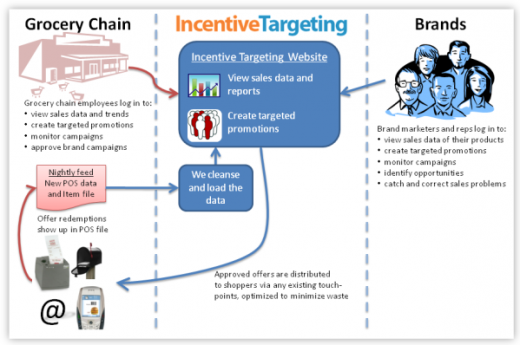 It is an intriguing acquisition in a number of ways. It obviously puts Google directly into the coupon business. In the past they have never committed to couponing in any significant way and it had been said that Larry Page in fact had a disdain for coupons. Their past behaviors have certainly reflected a certain schizoid, on again off again approach to coupons.
This product, while currently serving large chains and manufacturers, could readily scale down to a single merchant and fit into the SMB dashboard/integrated marketing portal that is rumored to be in the works. Imagine a single location grocery store or our local 30 location chain being able to have an advertising person easily issue coupons across media & track the results in real time. It sounds like a winner to me. It could obviously move beyond groceries as well.
Now lets hope that it sees the light of day sooner than Google's last local purchases of PunchD and TalkBin.