Understanding Google My Business & Local Search
Google: We Can Show Stars if We Want to!
Last week in "It Really Is a Google World and We Are All Just Living in It", David Mihm observed that the bulk of content above the fold was Google's. Last week, with the upgrade to G+ local, Google removed the engaging 5-star graphic from regular business listings and replaced them with the bland and less engaging Zagat rating graphic.
Except, of course, on local Adwords. An obvious corollary to David's "law" became apparent: It's Our World and We Can Show Stars if We Want to!*
(Click to view larger)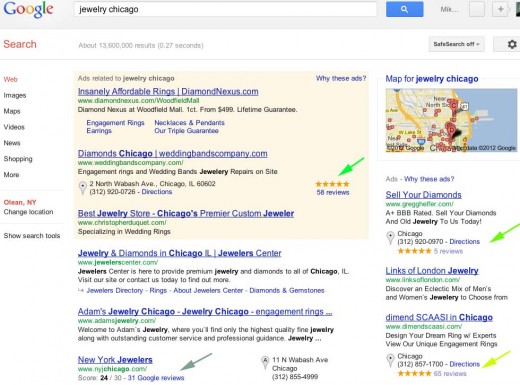 * The origin story:

When my daughter was much, much younger we had a bed time routine where we would "say the 5 things" every night before going to bed…. It was my equivalent of a prayer whereby Abby would wish those in her life (both humans and animals) well, both in their dreams and for the next day. It seemed to provide comfort to her that she would have a peaceful and restful night. As she gathered more people and pets around her the list grew to seven and then eight and perhaps even more things.
She would say: "Say the five things"
I would say: "But there are now many more than five things"
She would say: "I can call them five if I want to!!!!"
So it is with fond memories and a nod to my daughter's petulance that I titled this article.