Understanding Google My Business & Local Search
Is Google Thinking About Abandoning the Zagat Rating System?
Matt Gregory, a local SEO in Minneapolis, recently sent me these screen shots of an obvious test that Google is conducting to assess the relative merit of stars vs. the Zagat display for reviews in the main SERPS. He has been seeing these results on Safari for the Mac consistently from Monday evening through today on a broad range of searches. I have not been able reproduce the results but the fact that they were visible to him over such a long period time indicates that the results were not a fluke and are likely part of a larger test.
These results lend themselves to speculation. The recent change of review presentation to the Zagat rating system from the 5 star system was jarring to say the least. Minimally the local results with reviews became less visible in the search results and some folks like Matt McGee think that they are difficult to understand by the consumer/SMB and are a big risk for Google.
Marissa Mayer was the person that was most involved in the Zagat purchase and she noted at the time:
"Did you know there's a place in Menlo Park near the Safeway that has a 27 food rating?" one of my friends asked me that about two years ago, and I was struck because I immediately knew what it meant. Food rating… 30 point scale… Zagat. And the place… had to be good. With no other context, I instantly recognized and trusted Zagat's review and recommendation.
A well known foodie, Mayer was obviously taken with the Zagat system. She was in charge of Google local when the Zagat review system was implemented and one can surmise that it was her "baby". With Mayer leaving the company it is entirely possible that there is no longer a strong internal advocate for the Zagat system.
Obviously not everyone at Google thought the the Zagat display was the best choice as Adwords retained the stars. And it appears that someone in Google local search must agree with them.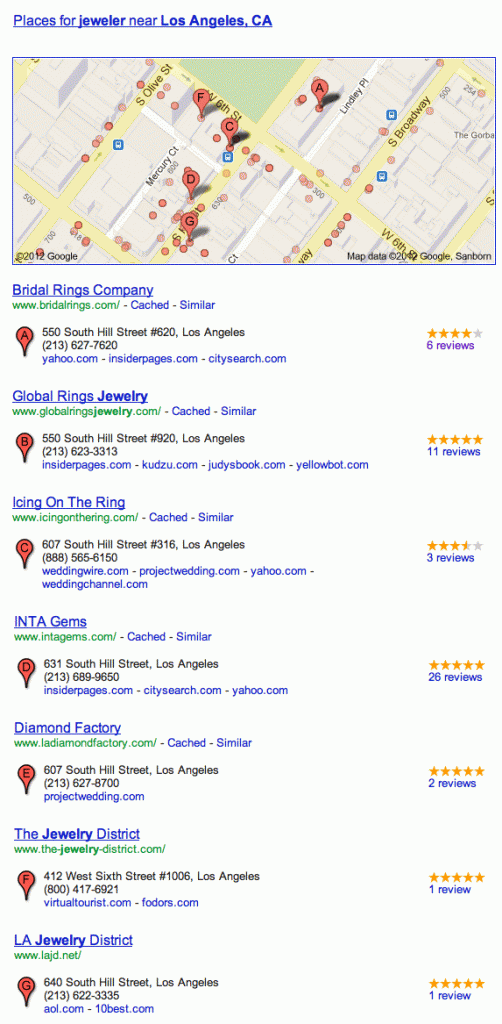 In addition to the change back to stars, note that the large map is included in the main body of the serps and not off to the side and third party reviews are once again given front page visibility. Apparently the rollover to the full listing content appearing to the right is MIA as well. This layout also obviously frees up advertising space in the right column.
What do you think? Will Google abandon the Zagat display after only 2 months of use?