Understanding Google My Business & Local Search
7-Pack Upgraded – Stars Are No More, Authorship is King
Google continues to march down the integration road of bringing the new Google+Local pages into the flow of their products. Today the 7-Pack was updated to include the new links and the new review rating system. As you can see from the image if there are more than 10 reviews the new Zagat rating replaces the stars. If there are less than 10 reviews it shows a review count and if there are none it simple goes to the new Google+Local page.
The replacement of the review stars with the simpler and less visually obvious Score is likely to attract less user attention. I will miss the star system as it was an instantly understandable symbol of quality. The Zagat system, while perhaps more granular, will take a while for customers to get used to and lacks the visual appeal of the stars. It highlights why authorship is more important than ever.
Also note that that Adwords Express Ad still directs to the deprecated Places page and shows the old star system so the transition is far from complete.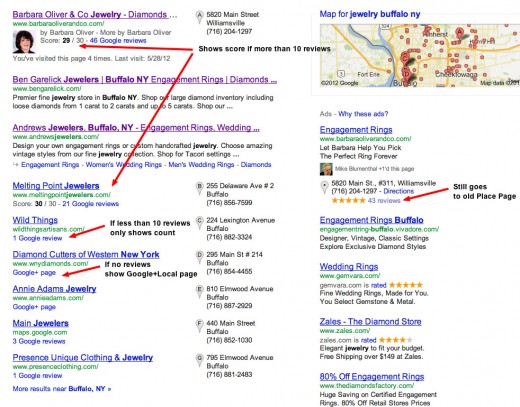 Google has simulatneously upgraded the mobile display to include the new Zagat rating system. The new rating is somewhat more visually obvious  on a small screen. Interestingly, they have not yet returned the ability to leave a review to their mobile clients that disappeared last week. The new mobile display, rolled out several weeks ago, preloads a "mini" version of the business listing data and doesn't take the user over to Google+ like the desktop does.  You would think that mobile would be the first environment that would be able to leave reviews that could be shared with friends, not the last.