Understanding Google My Business & Local Search
Google Testing Plus Integration with Places via Authorship
Since Google announced in July that there would be Google Plus business pages there has been speculation that Google would integrate Plus and Places. We saw some early Plus Plus Places (a mouthful..) integration in November but now Google appears to be testing P+P (or is it ++P) integration using the rel=author tag as the glue between the two.
Over the weekend I found these author images in blended Places search results for the phrases DUI Lawyers Phoenix and Criminal Defense lawyer Orlando. They appeared and disappeared so I assume that they are tests and not the final implementation.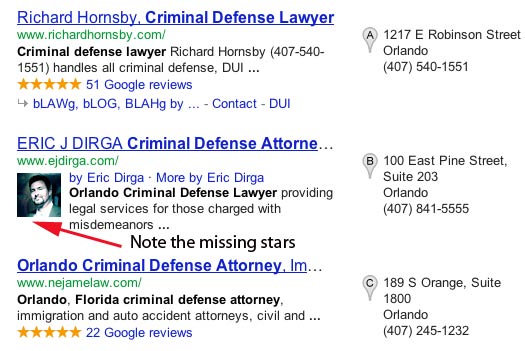 Interestingly the blended result with a rel-auth photo doesn't show a link to the business's Place page . More importantly it does not show your Google reviews and star ratings. For now anyways, the image appearing in the blended results adds a unique attribute to the listing that makes the listing stand out but the missing star ratings is problematic. Who knows what the final implementation will look like.
If you are logged in and hover over the "by author" link you are presented an option to add the author to your circle. If you click on it you are taken to their Plus Page.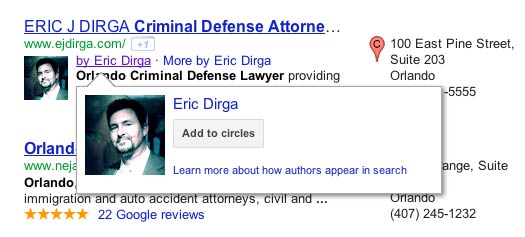 The "more by link" takes you to the "Google+ Author results". As Matt McGee has pointed out, the only way to get to those results is by clicking on this link as there is no command line or advance search path. Apparently though there is a bookmarklet which will perform this particular type of search.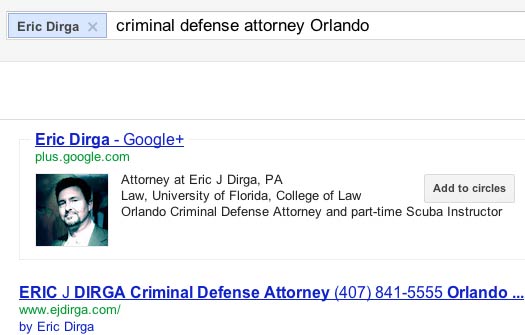 Should you implement the rel=auth tags? It makes a great deal of sense from a click thru point of view that your photo is associated with and highlights your organic search results associated. In many ways for bloggers and others with a strong online presence their image is their brand. It appears from these tests that will also become important to do so in local.
I found the initial implementation of the rel="auth" tag confusing (here are relatively clear instructions). Google subsequently released a simpler method that made it much easier although it still is very syntax dependent. You can double check if the rel="auth" is implemented correctly by using the Google Rich Snippets Tool. This new bookmarklet from AJ Kohn makes that task even easier.
I will be testing it with an medicaid planning lawyer in Buffalo as well. I will report on the results.