Understanding Google My Business & Local Search
More Examples Of Plus Integrated Into Local Search Results
Several additional instances of Google Plus integration into local search results have been found by Renan Cesar, a Brazilian search marketer. It has also been brought to my attention by Sebastian Socha that examples are now visible in Germany.
In both of these examples, the images, when clicked, go to an intermediate search result highlighting the appropriate Plus Page with an option to add them to your circle. In the first instance the intermediary result shows a recent post. In both cases the Plus page is correctly identified. The  intermediate results page that you are taken to offers a somewhat awkward, beta like experience as it is neither a Plus page or a true search result.
At this point, Plus results for local are only showing in the Places Search, one click away from the main search results and thus less visible then they might be. If these results were to show in the main results, the opportunity to enhance a business listing with a large, juicy logo or image would be irresistible. As it is, this current rollout might convince some additional businesses to try Plus. It certainly seems to be pointing to much more visible exposure of Plus Business Pages.
My recommendation? Claim your Business Place Page to avoid squatting (which is all too easy at the moment), associate it with your website  and minimally add a few compelling logos and photos.
On this Places Search example for Cake Box New Jersey you see a correctly integrated profile photo on all of their results from the business's Google Plus page. The image clicks thru to an intermediary search result of a recent post on their Plus Page: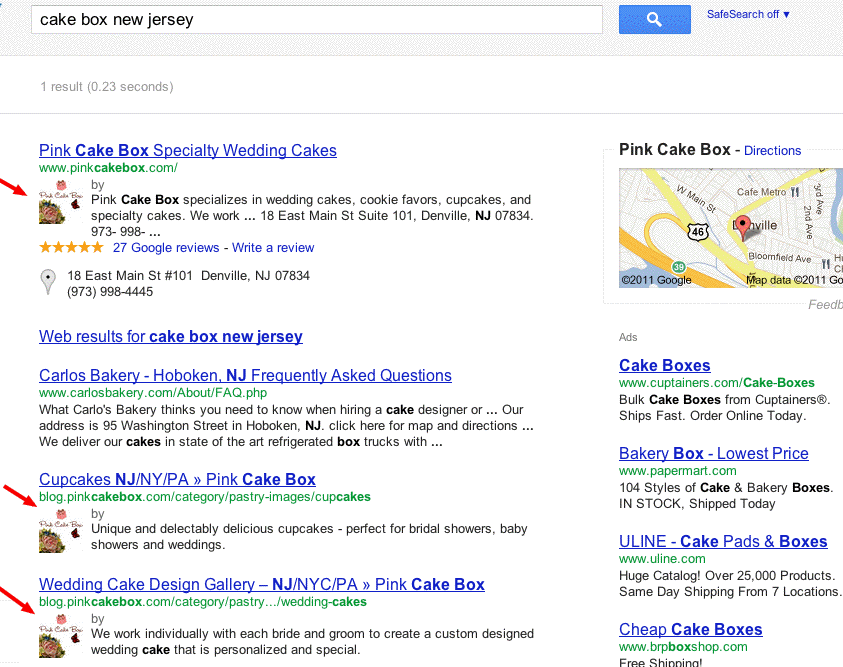 In second example the Plus page for Manta has been integrated into the organic section of Places search for NEC Store Manhattan.